Bangor Business School's Class of 2012 celebrate Graduation
Thursday, 19th of July 2012 marked the end of an era for over 450 Bangor Business School students as they graduated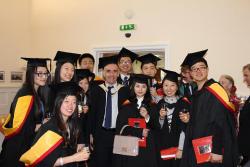 Some of this year's graduates with Professor John Goddard, Deputy Head of Schoolfrom various undergraduate, postgraduate and research programmes.
Eight departing undergraduates had further cause for celebration as they were awarded prizes worth £100 for exceptional performance in their studies.
For the second year running, the student with the best performance in Accounting and Finance also scooped the top prize of the Craig Williams Memorial Award for the best performance in any Bangor Business School degree. Ceri Wyn Jones, graduating with a First Class BSc in Accounting and Finance, follows in the footsteps of 2011 graduate Danial Hemmings of Anglesey, who is now studying for a Masters degree at Bangor.
GRADUATION PRIZES 2012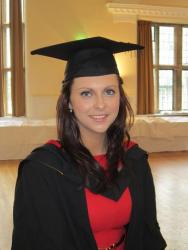 Ceri Wyn Jones was named as the student with the best performance in any Bangor Business School degree
William and Myfanwy Eames Prize for the best performance in Economics – Matthew Gibbs
David Jones Memorial Prize for the best project mark in an area related to business financing – Shajakoth Miah
Jack Revell Prize for the best project mark in a banking subject area – Richard Kemble
Chartered Institute of Marketing/Bangor Business School Voucher for the best dissertation in Marketing – Amy Walker and Marina Bruin
Bangor Business School Prize for the best performance in Accounting and Finance – Ceri Wyn Jones
Bangor Business School Prize for the best performance in Banking and Finance – Hu Tao
Bangor Business School Prize for the best performance in Business, Management or Marketing – Gaenor Roberts
Craig Williams Memorial Award Prize for the best performance in any Bangor Business School degree – Ceri Wyn Jones
Publication date: 26 July 2012