Bangor Forestry Students Celebrate the International Day of Forests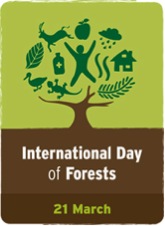 Globally, forests cover one-third of the Earth's land mass, and support the livelihoods of around 1.6 billion people.More than 80% of land-based animals, plants and insects are found in forests and they also protect watersheds and provide us with clean air and water.United Nations International Day of Forests, now in its second year, aims to promote awareness of the importance of all types of forest.
The day was fittingly celebrated by a group of Bangor University forestry students, who marked the occasion by creating their own "forest". Following the successful award of project funds from Bangor Students' Union, Bangor Forestry Students Association (BFSA) was able to purchase 500 tree seedlings, plus tree protection material and planting equipment. 14 students gave up a day of their own time to create the forest, which in time will provide a local and sustainable supply of Christmas trees for Bangor University staff and students, with any future profits being split between similar BFSA activities and the Size of Wales project. Bangor University donated a suitable site at the Henfaes Research Station, Abergwyngregyn.
"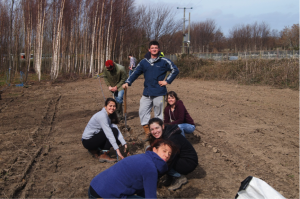 Working as a team, the students ensured the young trees were planted at the correct depth and spacing to ensure their survival and growthIt was a fantastic day," commented Gruff Rhys-Sambrook, BFSA president. "We had a great turnout of really enthusiastic students and everyone got stuck in. It was also a truly international day, with several Science without Borders students from Brazil also coming to help out. The whole exercise really was a great training experience for us all in terms of the practicalities of creating new forests."
Nathan Benyon, 2nd year forestry student, said, "spending a day creating a new forest really helped bring to life much of the forestry course at Bangor. We had to consider all sorts of issues we usually just discuss in lectures, such as what spacing to plant the tree seedlings at, how to protect them from pests, how to prepare the site, and what depth to plant them at. I know what I've learnt today will help me in the future when applying for jobs."
Gruff Rhys-Sambrook added, "we've paved the way for future forestry students to come to Bangor and take care of our young forest and we look forward to seeing the first crop of trees in a few years' time. This forest will be passed on from year to year, demonstrating to students the responsibility and custodianship that foresters are privileged with when creating forests."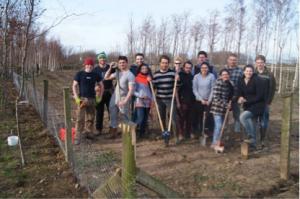 The 14 students at the end of a hard but enjoyable and rewarding dayReflecting on the day, Dr James Walmsley, Lecturer in Forestry added "it's been truly inspirational to see this enthusiastic group of students organise themselves so effectively. They've achieved a great deal and I really look forward to helping future forestry students nurture these young trees – and of course to being able to buy a Christmas tree from a local source, to support such a good cause."
Photos courtesy of Gruff Rhys-Sambrook and James Walmsley.
Publication date: 21 March 2014