Bangor Law School: top 10 mooters in Europe
Bangor Law School students have ranked amongst the top 10 mooting teams in Europe following their outstanding performance at a major competition.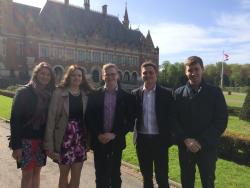 Team Bangor outside the Peace Palace: (L-R) Katherine Gildner, Elizabeth Strange, student coach Aaron Clegg, Scott Sharp and William Carlsen.
William Carlsen, Elizabeth Strange, Scott Sharp and Katherine Gildner faced 24 teams from across Europe at the Telders International Moot Court Competition in The Hague, the Netherlands, last week.
They finished a fantastic 9th in the Respondents category, and, in an amazing coup, three of the four team members were ranked amongst the top 20 oralists in the entire competition, with first year undergraduate student Elizabeth coming sixth out of all 96 competitors.
This is the third time that Bangor University has represented Wales at the Telders competition, having qualified for the first time ever in 2013. The team's success is testament to the lively mooting environment at Bangor Law School, where students regularly compete at internal, national and even international levels.
"I could not be any prouder of the team, who worked so well together and really put in a huge amount of time and effort into the competition", commented Dr McDermott Rees, who, alongside 2014 Telders competitor Aaron Clegg, accompanied the students to Holland. "All four students were highly commended by the judges on their oral and written advocacy skills. It is particularly notable that the two undergraduates (William and Elizabeth) on the team, who were competing against some students doing their second or third Masters degrees, were ranked fourth best oral arguments on behalf of the respondents!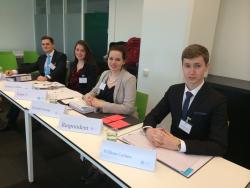 The team pictures before their last semi-final
"The team, and Aaron and I as coaches, would like to take this opportunity to thank all of the visitors to Bangor Law School who acted as guest judges throughout the year – these included Dr Richard Caddell, Martin Browne, Dr Vanessa Davies, His Honour Judge Jeremy Roberts, and Professor Rhudian Thomas – and the members of staff who put the team through their paces, especially Professor Cindy Buys, Professor Dermot Cahill, Chaynee Hodgetts, Dr Marie Parker, Dr Hayley Roberts and Daniel Shepherd."
Publication date: 18 May 2015