Bangor Law student completes internship in Washington D.C. Law Firm
Ms Haude Bergeon-Hennebois, a final year English Law with French Law student, described her internship in September 2016 with the Washington, D.C. law firm Jezic & Moyse, LLC as one of the most rewarding work experiences of her life.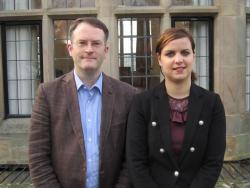 Final year student Haude with Dr Mark Hyland, member of the Law School's Employability Committee
Haude's internship was in the field of Criminal Law (criminal defence) and her 1 month internship exposed her to some of the most serious crimes on the Statute Book such as murder, manslaughter and rape. In addition, she also assisted on domestic assault files and files relating to drink driving allegations.
During her internship, Haude assisted both attorneys and law clerks prepare the Defence of the firm's clients.
One key task she performed was to read through and assess all the evidence being adduced against the firm's clients. The evidence was very diverse in nature, and included medical reports, written testimonies and even video evidence of crime scenes. She also watched quite a number of police interviews, carried out prison interviews (under supervision) and shadowed attorneys at trials.
During her internship, Haude perceived the important differences between the English and American criminal law systems, despite both being Common Law systems.
Haude, from Bagnères-de-Luchon in southern France, said: "I feel very privileged to have done such an interesting and diverse internship. This international internship has strengthened my resolve to work as a solicitor in the field of Criminal Law".
Dr Mark Hyland, Haude's personal tutor and member of the Law School's Employability Committee, added: "Haude has proven that careful career planning can generate very interesting, fulfilling and intellectually stimulating international internships. She will benefit tremendously from her stint with Jezic & Moyse, LLC and, in one fell swoop, has significantly strengthened her CV".
Publication date: 4 November 2016