Bangor Science without Borders student presents research at prestigious Oxbridge conference
Emily Ane Araujo Santana is a Science without borders student and she has recently presented her research at the 5TH Oxbridge Conference on Brazilian Studies, which is a joint venture by Oxford and Cambridge universities. Emily beat off stiff competition from other students to be awarded the opportunity to present her research that is focused on sexually transmitted diseases in Brazil.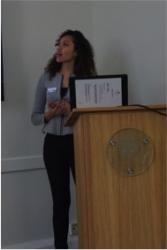 The Oxbridge Conference on Brazilian Studies had its successful debut in 2012, and has been organised every year by the Cambridge University and Oxford University Brazilian Societies (CUBS and OUBS) since then.
The Oxbridge Conference on Brazilian Studies is a multi-disciplinary event that brings together scholars from the natural sciences, social sciences and humanities to discuss the potential effects of their research to Brazil.
Talking about her the conference Emily says:
"the experience was scary because I was the only undergraduate student presenting a work there, however also it was an amazing and good opportunity to practice my English skills, which I've learned here, and share with people an important topic about my home state in Brazil."
Bangor University is renowned for the high quality of student support available to students and Emily is adamant that she couldn't have achieved this recognition for her research prowess without the support she received.
"I would like to say thank you for all supporting I received from Dr Jenny Byast, my presentation was so much better with your point of view, and Anthony Brooks (ELCOS teacher) who spent hours with me improving my performance for that oral presentation"
The School is delighted for Emily on her achievement and the summary of her research findings is detailed below:
Characterization of users registered in the Specialized Care Service (SAE) of the Municipal Reference Centre STD / HIV / AIDS in Feira de Santana, Bahia - Brazil
Summary
According to Pinto et al (2007) and Silva et al (2013), the HIV/AIDS epidemic in Brazil can be characterized by a heterosexualization, feminization and juvenilization process. Therefore, this study has aimed to describe the users' epidemiological profile of the Specialized Care Service (SAE) of the Municipal Reference Centre STD / HIV / AIDS in Feira de Santana, Bahia for ten years (2003 – 2013). This research is descriptive and quantitative; the data was collected from the Book of Registry of Service at SAE.
It was found, for the aforementioned period, 1,811 users with HIV / AIDS registered in the service. There were 64 (3.5%) of children from 1 to 14 years old; 1,550 (85.6%) of adults between 15 – 49 years old; 193 (10.7%) of elderly in the age group of 50 – 77 years old and 4 (0.2%) of ignored cases.
Taking in consideration the gender, there were 1,160 (64,0%) men, 646 (35,7%) women e 5 (0,3%) ignored cases. Concerning those men, 526 (29%) were men aged 30 to 44 years. Regarding women, the age group with the highest incidence was 25-39 years old, with 394 (21.7%) cases diagnosed. The most prevalent mode of transmission was sexual with 1,720 patients (95.0%). Regarding the sexual orientation, heterosexual was the highest: 1,377 (76,0%). Followed by homosexual with 241 (13.3%). The feminization process has been observed in the city, which the reason over these ten years has remained at an average of 1.4 cases among men for each woman.
The heterosexualization and the juvenilization were also observed. It is noticed that the epidemiological HIV aspect at a national level is also occurring in the city of Feira de Santana. Thus, it is necessary to implement actions of prevention, mainly related to health education and awareness about the ways in which this disease is transmitted throughout the population.
Publication date: 7 June 2016