Bangor students take the National Apprentice Challenge
Four students from Bangor Business School (Sophie Rogers, Shubhankar Gupta, Faris Al-Hussaini and Samriti Rajpal) recently teamed up with other Bangor University students for the National Apprentice Challenge. The two-day residential challenge, hosted at Aston University in Birmingham, is the largest competition of its kind in the UK, and attracted 80 students from institutions including Aston, Manchester, Surrey and Warwick universities.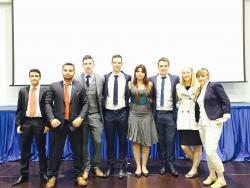 Faris (left), Shubhankar (2nd from left), Samriti (4th from right) and Sophie (2nd from right) with their fellow Bangor University competitors
On day one of the Challenge, the 19 participating teams were asked to create a business concept for the next social platform to challenge the likes of Facebook, Twitter and Instagram. After developing their business model, the teams had to pitch a proposal to an experienced set of judges from Mass Challenge, a global business accelerator that supports early start-up companies. For the second task, the students were required to strategically design a marketing campaign plan for Grant Thornton in Bolivia.
During the competition, the students had the chance to network with top employers and like-minded people and receive paid international internships based on their performance.
"I felt it was great for both teams to attend and gain knowledge of what is out there", commented Samriti Rajpal, a third year BSc Management with Banking & Finance. "The networking opportunity was spectacular with the ability to meet students from all around the country. I would recommend this for students to attend next year and gain experience while networking."
Publication date: 23 April 2015