Bangor University Alumnus Shares Story of His Epic Round of Wales Charity Odessey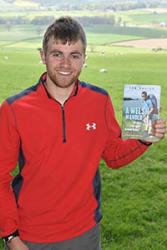 Tom Davies: Photo: Jane BywaterOn 26th July 2016, Bangor University Alumnus, Tom Davies left his home in Presteigne. Nine weeks later he arrived home, having walked the 1,100-mile perimeter of Wales, raising £6,700 for Alzheimer`s Society.
Now his newly published book, A Welsh Wander – An Epic Trek Right Around Wales, is his heart-warmingly open and honest story, bursting with facts about places along his route. With vivid descriptions and photos of stunning scenery on the Offa`s Dyke Path and Wales Coast Path, Tom describes magical wildlife encounters, bizarre anecdotes, random and life-reaffirming generosity from strangers, and even a few dark moments when he felt like he'd bitten off more than he could chew.
'During my years of teaching, my maternal grandma developed Alzheimer's and while in the middle stages of the disease, passed away very suddenly. Two years later, my maternal grandfather was diagnosed with vascular dementia,' explained Tom, 'Seeing two people who I love very dearly afflicted by such a personal and confusing illness inspired me to begin fundraising for Alzheimer's Society.'
It was for this reason that Tom had the idea for his challenge – to circumnavigate his home country in one go, carrying everything he needed to survive in his loyal backpack, Wilson,. 1,100 miles, two months away from home, a £1,100 sponsorship target and a daily online blog called Tom's Welsh Wander that would become far bigger than he ever dreamed possible.
'Each night, I would sit in a quiet corner of a pub, or a bedroom, or my tent, and pour my heart into my blog,' said Tom, 'It became a friend in whom I could confide my every thought, feeling and emotion, and that is why I have decided to share it now.'
Tom's blog hits eventually climbed to over a staggering 26,500 and his fundraising reached a total of £6,700 – well above his original £1100 target. His journey also drew the support of one famous follower, TV presenter and Welsh meterologist Derek Brockway.
'I first heard about Tom and his Welsh Wander after his mum got in touch with me in August 2016. She told me all about her son's challenge to walk the whole perimeter of Wales and raise money for charity' said Derek Brockway. 'My dad suffered from dementia, Tom's grandmother died of Alzheimer's and now his grandfather has developed the illness too. I decided to offer my support and join him on part of his trek of a lifetime, to help raise awareness of this terrible condition.'
'Tom is a proud Welshman who loves his country and his love of the Welsh countryside, its beauty, history and magical wildlife really shine through in his writing,' added Derek, 'It has been a pleasure for me to get to know Tom and one day I hope to follow in his footsteps and complete my own Welsh Wander!'
'My Welsh Wander has been the single greatest experience of my life. I've seen so many breathtaking sights, had some incredibly special moments and battled through some tough ones too,' added Tom, ''I hope it will inspire people to explore the countryside on foot and to learn new things about the area they live in as well as making want to visit other corners of the incredible country that is Wales!'
Tom Davies grew up in a close farming family in Presteigne, developing a love for nature and the great outdoors. While at Bangor University studying Primary Education, he joined the Mountain Walking Club, becoming treasurer and a leader, and spent most weekends taking groups into Snowdonia. After graduating, he spent four years teaching. He is now combining his love for teaching and the great outdoors by working as an outdoor activities instructor.
The book will be launched in Presteigne in late June in the company of Tom Davies and Derek Brockway.
Publication date: 12 May 2017