Bangor University Futsal team promoted to the premier league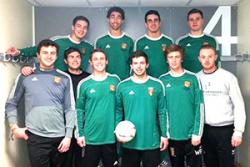 Bangor University Futsal team capped a remarkable year for Football/Futsal as they became the first Bangor University team to be promoted to a British University premier league in recent memory.
Following the league and cup winning success of the Men's first team and twice promoted Women's team, the Futsal team knew that they would get promoted to the Premier League if they could win a three way playoff with against Manchester University and Durham University. Bangor University Futsal qualified for the play offs by going unbeaten in the two tournaments at Glyndwr and York Universities to win the Northern Conference 1A division.
After a slow start in the first game of the day against Durham University; Bangor found themselves 7-3 down at half time. A half time re-arrangement by the coaching staff had an immediate effect as Bangor quickly took control of the game and clawed their way back into the game. With the score 8-7 to Durham with two minutes remaining, and large amount of pressure and chances for Bangor, the Durham were able to break away and seal a 9-7 win with only 30 seconds left on the clock.
However, with Manchester having beating Durham 8-7 in an earlier match, each team was level on points heading into the final game between Bangor and Manchester University. Knowing that a win by 4 clear goals would send Bangor in to the Premier league on goal difference, Bangor attacked from the first whistle, and in stark contrast to the first game they found themselves 5-1 up at the break. They knew that as long as they didn't lose the second half they would be playing premier league futsal next year. They continued playing the same way in the second half and the result was never in any doubt as they ended up coming out convincing 15-3 winners to seal promotion.
Bangor University Football Development Officer and Futsal Coach, Gareth Williams, said:
"We have made a big statement in the Futsal world with our promotion to the premier league and it's a great effort from the lads. Futsal takes an extra commitment on top of their normal football activity and we've managed to keep the team working hard all year and got our reward with a place in the premier league next season"
Publication date: 22 May 2014