Bangor University School of English excels in National Student Survey
The School of English at Bangor has achieved excellent results in this year's National Student Survey, coming top in Wales for student satisfaction on Creative Writing Degree programmes.

Students of English at Bangor registered 89% for their overall satisfaction with their experience, with 93% for the availability of English Literature lecturers to support their studies and a staggering 100% for the skills of the Creative Writing staff in explaining their subject. These results confirm the strong reputation of the School for academic excellence combined with friendliness and inspiring teaching.

Professor Helen Wilcox, Head of School, commented: 'We are delighted with the enthusiasm of this year's graduates, which reflect our strengths as a department in research-led teaching and pastoral care. We work closely with our students to develop their skills and have an excellent group of student representatives who help us to respond to students' needs. We look forward to giving a warm welcome to the students joining the School for the new academic year'.

The National Student Survey is an annual poll of around half a million graduating students at each university in the UK; it provides the most comprehensive feedback on the student experience at each institution. The School of English's excellent results match those achieved by Bangor University, which is positioned in the top 10 of all U.K. Universities, alongside other traditional institutions such as Glasgow, Durham, Oxford and Cambridge. Bangor is the most successful University in Wales for student satisfaction and one of the top five in the U.K. for the academic support of its students.

Bangor School of English degree programmes allow students to choose from the full chronological range of literature in English as well as to study Creative Writing and many other subjects in combination with English Literature. Among the School's distinctive programmes are English Literature with Creative Writing, with Theatre and Performance, and with Songwriting; Creative and Professional Writing; and the new degree in British and Irish Literatures, beginning in 2015. The quality of our degree schemes is proven by the high proportion of graduates who go on to have successful careers: 81.13% of our undergraduates are in employment or further training within six months of completing their degree.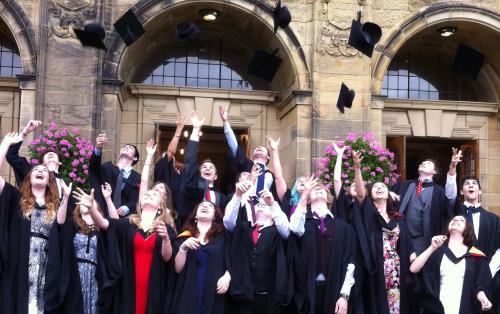 Publication date: 1 September 2014