BBS graduates attend business leaders' event at the Shard
Bangor Business School graduates Agnieszka Kurdzieko and Elin Jones attended an exclusive Future Leaders' Luncheon in July, hosted by CPA Australia at the Shard in London.
They were joined by senior executives including Christopher Crellin, Vice President of Finance of Sony Music Entertainment, Aaron Musca, Chief Financial Officer of IKEA Ltd, and Kristy Eden-Green, Finance Director of State Street, one of the world's largest asset management companies.
As well as providing exceptional insight into building a successful global career, the event brought together current and aspiring future business leaders for a unique networking experience.
The final-year Accounting and Finance students were invited to the exclusive event to represent Bangor University as one of only 26 UK universities with courses accredited by CPA Australia.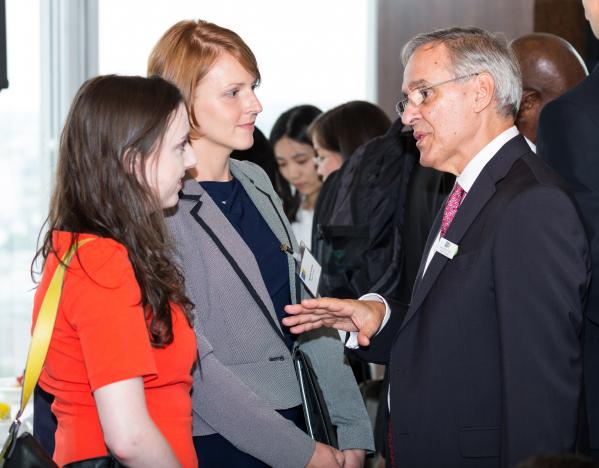 Elin and Agnieszka talking with Philip Sourry, Non-executive Director of the Salvation Army
Publication date: 2 August 2017