Bronwen interns in the EU's 'Silicon Valley' thanks to Welsh Livery Company Scholarship
A prestigious travel scholarship has enabled an undergraduate student to undertake an Intellectual Property Law internship in Dublin – the EU's 'Silicon Valley'.
Earlier this summer, LLB Law student Bronwen Hughes, from Acton, was awarded the Welsh Livery Company's Eric Sunderland travel scholarship in the field of Intellectual Property Law.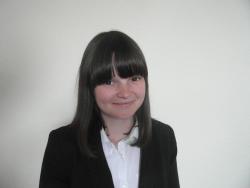 Bronwen Hughes
Worth £1,000, she used the scholarship to fund an internship in the legal department of OpenJaw Technologies, Dublin, a global leader in delivering online retail technology and services to the travel industry.
During the week-long internship, Bronwen worked alongside the company's General Counsel, Ms. Gemma Neylon, in fields of law including intellectual property law, data protection law and contract law.
"I thoroughly enjoyed my internship at OpenJaw Technologies and being in Dublin itself", says Bronwen, who will enter her third year in September. "I found the experience to be extremely rewarding – I learnt so much and was very lucky to have a fantastic mentor in Gemma, who was really encouraging and full of helpful advice from day one.
"Many thanks to Dr Mark Hyland for setting up the internship opportunity – I would highly recommend such an internship to all Bangor students!"
Dr Mark Hyland, Lecturer in Intellectual Property Law and a member of Bangor Law School's Employability Committee, added: "Bronwen was a very deserving recipient of the travel scholarship. I am delighted she enjoyed her time with OpenJaw Technologies so much. This internship will strengthen Bronwen's CV considerably and will, undoubtedly, help to increase her interest in the specialist field of intellectual property law.
"I was very impressed when I read Bronwen's CV as she has a large number of work placements in the legal field to her name, including a mini-pupillage in Linenhall Chambers, Chester; an internship at McCue and Partners, London; work experience at Conwy County Council's Legal Departments; and placements at GHP Legal in Wrexham, Gamlins LLP, QualitySolicitors Hopleys GMA and Wrexham Magistrates Court.
"Clearly, this demonstrates plenty of initiative and strategic career planning on Bronwen's part. These components are crucial to the 'crafting' of a solid, rewarding and gratifying career path."
Publication date: 5 August 2015