Business student among Bangor's Santander Entrepreneur finalists
Business undergraduate Adam McDonald from St Helens was among the Bangor University finalists pitching their entrepreneurial ideas at a Santander Entrepreneurship competition recently.
Accounting and Finance student Adam presented his all-inclusive personal security solution to the team of 'Dragon's Den' type judges who then asked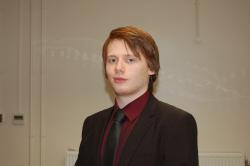 Accounting and Finance student Adam McDonald was among the finalists at the Santander Entrepreneurship competition.questions about his business idea.
Adam said he had a keen interest in entrepreneurship and in developing ideas, but that he'd learnt more about market research and presentation skills, preparation and communication skills by taking part in the Competition.
Adam said he came to study at Bangor University as the area was amazing and there was such a wide choice of activities both within the University and in the wider surroundings. He said "I originally had Bangor University as my insurance choice, but when I came to visit during the Open day and spoke to current students and staff, I changed my mind completely. I'm really enjoying studying and the level of support is amazing."
He was one of eleven students pitching their business ideas to a panel of judges recently. Having been tasked by the B-Enterprising team in the University's Careers & Employability Service to come up with an innovative business idea, the student teams and individuals presented a wide range of new products and services that they had researched and developed.
Bangor University Vice Chancellor Professor John G. Hughes said that the judges had been impressed by the quality of the projects as well as the huge amount of work done by all the competing students.
Catrin Hicks, a Product Design student from Blaenau Ffestiniog, Gwynedd, won the £200 undergraduate prize, while the £200 postgraduate prize went to a team of Business and Psychology students.
Awarding the prizes, Vice-Chancellor Professor John G. Hughes said, "All the judges were impressed by the ideas and enthusiasm shown by the competition entrants. The quality of the business ideas was excellent; there are some strong potential commercial products in development. My intention is to make Bangor University one of the leading institutions in the country for innovation and entrepreneurship. I'd encourage all the entrants to seek further support from the University to develop their entrepreneurial ideas."
Publication date: 27 March 2013