Business students pitch their ideas at national Marketing competition
Two teams from Bangor Business School recently took part in the final round of 'Brolio/ The Pitch', a Welsh university-wide competition organised by the Chartered Institute of Marketing (CIM) and sponsored by the Welsh Government. The challenge this year was to develop an innovative campaign promoting Cynnal Cymru-Sustain Wales and to deliver a 3 minute pitch to a panel of marketing professionals and judges. The teams were required to respond to a detailed brief and considered budgets, messaging and marketing tools in their presentations, showing their understanding of a real-life business scenario.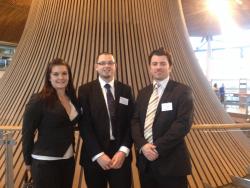 Team 'Egni Bangor': (L-R) Charlotte Doyle, Steffan Thomas and Dyfan Searell
The first team, 'Egni Bangor', included Charlotte Doyle, Dyfan Searell and Steffan Thomas. Their pitch aimed to bring organisations together to build long lasting relationships through various events. Also taking part was 'The Lighthouse Group' (Karyn Davison, Timur Pavlivskiy and Jim Walmsley), whose pitch aimed to bring together companies to work collaboratively through a number of internal and external processes.
Steffan Thomas, Marketing PhD student at Bangor Business School, said: "Brolio/The Pitch gave me the chance to put marketing theory into practice and to work with other students from various backgrounds and disciplines. In the month leading up to the event, myself and my team members would meet to plan our pitch with the hopes of making a good impression on the judges. The experience was a great opportunity to network and meet staff and students from other universities in Wales".
Karyn Davison, a third-year Business and Marketing student, added that "Participating in The Pitch was a fantastic experience, and I would recommend it to anyone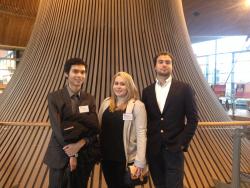 'The Lighthouse Group': (L-R) Timur Pavlivskiy, Karyn Davison and Jim Walmsleyinterested in a career in marketing".
"Brolio/The Pitch is an excellent experience for students who wish to pursue a career in marketing", commented Dr Sara Parry, Lecturer in Marketing at Bangor Business School. "The brief they are sent is exactly the same as one which would be issued to a real marketing agency and is an opportunity for the students to showcase their creativity and strategic thinking in front of industry experts. Taking part in this event is a great opportunity to gain hands-on marketing experience and is invaluable for improving students' employability."
The video of Brolio/ThePitch is available at www.youtube.com/broliothepitch together with a separate short clip giving the judges' feedback. Pictures from the evening are at http://www.flickr.com/photos/brolio/sets/.
Publication date: 25 February 2014