Calling Manchester: first year Legal Skills students take a court and careers visit
94 law undergraduates studying the Legal Skills module have visited Manchester's Civil Justice Centre and Crown Court as part of their Mooting Skills tuition.
Coordinated by Stephen Clear, Bangor Law School's Mooting Skills Coordinator, the purpose of the trip was to provide first year students with the opportunity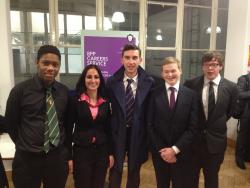 Some of Bangor's students at the BPP evening, where they had opportunity to discuss career options with LPC and BPTC advisors.to gain practical insights into the advocacy skills of real life barristers and solicitors.
At Manchester's Crown Court, the students – along with Stephen Clear and Welsh-medium Skills Tutor Huw Pritchard – were welcomed by the Crown Court Clerks and given information packs pertaining to the work of the Criminal Courts. During the guided tour of the facilities, they were taken into empty courtrooms so as to explain who everyone was and where they sat. Towards the end of the visit, the class were given an overview of a case by a Crown Court Judge, and were thereafter able to sit in on hearings relating to drug smuggling, and offences against the person. Some had the opportunity to meet barristers in between cases being heard.
At the Civil Justice Centre, the students were given a guided tour by Rose Shaw, Queens Bench Listing Officer. Here, they had a chance to ask questions relating to the work of the Civil Justice Centre, before witnessing first-hand the work of judges, barristers and solicitors within the Centre.
"The purpose of this visit was to afford students the opportunity to experience real life advocacy and courtroom etiquette first-hand", explained Stephen, who is also BPP Liaison Officer within the Law School. "They are then able to consider how they can adopt such experiences into their submissions for their assessments."
The Manchester visit had a dual purpose as the students also attended the final instalment of BPP's Certificate of Commercial Awareness, a three-day course which BPP offers free to Bangor Law undergraduates. Its purpose is to encourage law students to be commercially-minded and to have business awareness.
This year, the participating students were able to network with recent trainees, high street Solicitors and senior partners from major international practices. The evening's programme included presentations by Giles Cheshire, Partner at Squire Sanders, and Richard Robinson, Legal Director at Addleshaw Goddards. Both speakers gave Bangor's students a valuable insight into what their firms were looking for when considering an applicant's suitability for a training contract, and even met with them at the end.
"The combination of both a court visit in the morning and a commercial awareness seminar in the afternoon provided for an interesting and insightful day", commented Jack Barry, a first year LLB student and current President of Bangor Students' Law Society.
"The court visit showed me what my life could be like in a few years' time if I chose a career at the Bar", added Jamie-Lee Quinn, an LLB student from Ireland. "At BPP we obtained knowledge of what potential employers will be looking for in their employees. It was also a perfect chance to network with professionals from the legal industry."
Publication date: 9 May 2013