Chief Executive of the Scottish Premier League visits second and third year students
Neil Doncaster, Chief Executive of the Scottish Premier League, gave Year 2 and 3 students an invaluable insight into the commercial world during a recent three-day visit to Bangor.
The first day of the visit saw students on the Year 2 'Professional Sport Management' module complete their final assessments in the form of a group presentation. Following on from last November's field trip to Norwich City Football Club, students had been asked to prepare a presentation on an affiliation agreement between a hypothetical football club and another commercial enterprise, to be delivered in front of the module organisers, Mr Doncaster and Bangor Business School's Professor John Goddard.
Day two involved introductory lectures to the Year 3 'Corporate Social Responsibility' module, also led by Mr Doncaster and Prof. Goddard. Focusing upon the various definitions of Corporate Social Responsibility and its development within organisations, the lectures provided the necessary preparatory material for the related field trip to Burnley Football Club, during which students will witness the real-world implementation of Corporate Social Responsibility strategies within an actual organisation.
The final day of the visit involved an innovative workshop introducing a variety of business skills, such as interview and presentation techniques, CV writing skills and practical suggestions on how to make yourself really stand out from the crowd in a business environment. Possessing a wealth of experience in liaising with the media and organisations in key sectors, Mr Doncaster's workshop was well-received by the participating Year 2 and Year 3 students, who all felt that the skills introduced would serve them well in their professional careers.
"The Skills for Business Day was excellent! Being taught salary negotiation by a CEO was amazing. Mr Doncaster took everything to the next level, I highly recommend this unique interactive lesson to anybody wanting to enhance and increase their business skills." Ryan Collins – Year 3 Banking and Finance
"I really enjoyed the Skills for Business training day, as it made me realize how a person should make use of every opportunity, and to view every opportunity as a learning experience. I really encourage students to participate in the Skills for Business day in order for them to develop their personal and communication skills, to be better equipped and prepared to structure their careers life." Alya AlAkram – Year 3 Banking and Finance
"I thought the skills for business session with Neil was fantastic and I left with more confidence of handling situations such as interviews and presentations in the future. Getting experience and guidance from an individual in a professional position such as Neil's helps you to appreciate what is required in a work environment. The 'Professional Sports Management' module has helped me understand more about the business side of a sporting entity. Pitching a proposal also helped me understand what is important about giving presentations and what information is important to the relevant parties." Sion Hill – Year 2 Marketing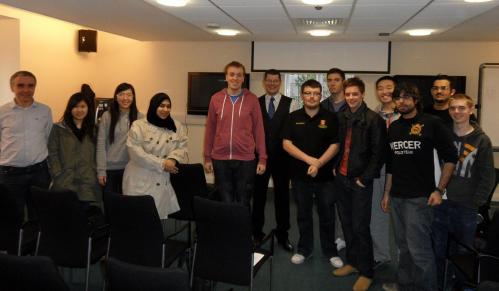 Year 2 and 3 students with Professor John Goddard (left) and Neil Doncaster (centre of image)
Publication date: 17 July 2012