Creative learning experiences on the LLM International Law programme
One of the options available to students on the LLM in International Law and the LLM in International Criminal Law and International Human Rights Law is International Human Rights Law, taught by Bangor Law School's Chair of International Law, Professor Suzannah Linton.
Just before breaking up for Christmas 2012, International Human Rights Law students had the opportunity to engage in a group exercise that brought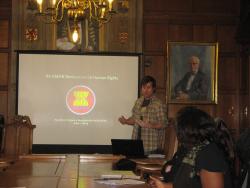 Dr. Aline Wong, Singapore's Commissioner to the ASEAN Intergovernmental Commission on Human Rights (aka Benjamin Owen) making his presentationtogether all they had learned in a unique and meaningful way. "I have been using this method of creative learning for several years now", said Professor Linton, "but this is the first time I have introduced it here at Bangor for the students taking this particular module". The exercise that Professor Linton developed involved students playing the roles of actual State representatives and other critical participants involved in the ongoing process of adopting a Human Rights Declaration for South East Asia's ASEAN grouping. Each student was assigned a task and a basic position to argue, and had to conduct research to develop the role. The students all prepared short position papers and then made presentations at a simulated conference; they were then subjected to rigorous questioning and challenge from other students who were also playing roles at that conference. As the exercise progressed, students had to respond and react to the positions taken by other students, and it developed a life of its own. The liveliest engagements were between the 'Ambassador of Myanmar' and Ms. Audrey Lee, the leader of a women's civil society group invited to participate in the discussions on a Human Rights Declaration.
Professor Linton explained that her objectives in developing and holding such exercises in addition to regular teaching are multi-fold. "I always try to make the experience of teaching and learning more challenging yet fun, and to inspire students to test their limits. I want my students to learn to think out of the box, I try to push them intellectually, and in more creative and practical ways. I want them to learn how to make presentations, and how to think on their feet. It is especially important, I believe, for law students to be able to connect theory and knowledge to reality; that is about developing skills. I particularly like students to argue from a position that they are actually opposed to, so that they see things from different perspectives. This exercise is a great tool for achieving such objectives."
The International Law students were very enthusiastic about the ASEAN exercise: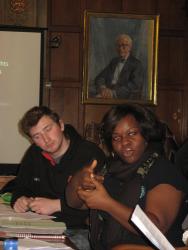 Dr. Sriprapha Petcharamesree of the ASEAN Intergovernmental Commission on Human Rights (aka Victoria Opara) addresses the meeting
"Enables you to balance all of your skills to maximise your potential."
"A great opportunity to practice presentational skills, gain experience in debates and deliver research effectively. Gives a real insight into the way international law works in the real world."
"A fantastic experience, encouraging students to participate in debates and further their research and presentation skills."
"Tests research and quick thinking to compose arguments in an original way in relation to traditional examination methods. An exam which one can learn from, rather than just regurgitating information, and in a way that was actually enjoyable."
"The exercise was great! It afforded us the opportunity to exceed our perspectives and positions, and ideologies. It was a challenge with great results. I would love to have multiple exercises of this kind."
"It has been a wonderful and unique exercise. Provided us an avenue to be more practical, trying to emulate state representatives. Also gave us an opportunity to think broadly and widely about the many issues discussed during the weeks of teaching as well as seeing the negative sides of arguments."
Publication date: 9 January 2013