Doing business abroad: Director at SAIC Motor UK shares experiences with first year students
Students on the 'Chinese Language and Business' module were recently given a lecture on international business by Alan Anderson from Shanghai Automotive Industry Corporation (SAIC). Alan is Director of Vehicle Programme Management at SAIC Motor UK and has many years of firsthand experience in dealing with international businesses, most notably in China. Specialising in cross-cultural project leadership, Alan was able to give a very good account of the everyday workings of doing business in China.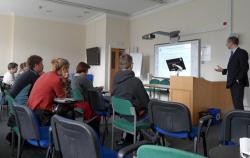 With the purpose of the Year 1 module to provide an introduction to Chinese society and the economy – with particular emphasis on the business environment and practical aspects of doing business in China – Alan's experience and stories helped to bring to life what the students had learnt in the classroom. In a lecture that lasted about an hour, Alan covered topics ranging from the difficulties of the language barrier and cultural challenges, to the complexity of getting problems sorted out quickly over email due to the time difference between the UK and China. After the lecture, students engaged in a Q&A session with Alan that lasted until long after the end of the class.
Publication date: 17 July 2012