Drama in the courtroom thanks to Just Some Theatre
What can a theatre company teach law students? The answer is performance, according to Just Some Theatre Company.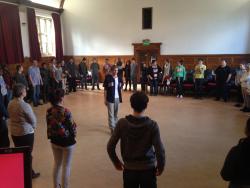 Bangor Law School students participating in an exercise
Jake Urry and Peter Stone ran a workshop for first year 'Legal Skills' students earlier this week, the aim of which was to help them build confidence and develop their public speaking skills.
The workshop was tailored towards mooting, a major activity at Bangor Law School, in which teams of students contest a fictitious case under simulated court proceedings. Students were encouraged to think of mooting as a performance, and to work on their presentation and public speaking techniques.
Stephen Clear, Mooting Co-ordinator and 'Legal Skills' module leader, explained the benefits of the workshop. "Moot courtroom simulations are amongst the closest experiences students can have to appearing in court. What this session does is empower our students to think beyond the academic content of their arguments, in considering their presentation and performance. The skills and insights delivered by both actors gave students an invaluable opportunity to explore techniques to improve their confidence and assist them in articulating their case with confidence, conviction and authority, whilst also adhering to courtroom etiquette rules".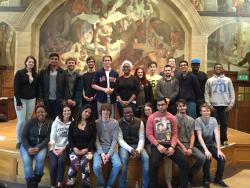 The Legal Skills students with Jake and Peter (3rd and 4th from left, back row)
Here's what the students had to say…
"The skills we learned will help us thrive in mooting, interviews, and even day to day life, even if we just remember one of the many exercises they taught us. I know that when I'm representing Bangor University at the Telders International Law Moot Court Competition in The Hague in May, I will use the theatre presentation to boost my performance" (Elizabeth Strange, Year 1, 2 Year LLB Law)
"An unusual but highly effective confidence booster! I took away handy tips to handle nerves and that is certainly of benefit. I will recommend this session to any aspiring public speaker. It works like you would not believe!" (Fawaz Atta, Year 1 LLB Law with Criminology)
"This session was really entertaining and I particularly appreciated the tips given by Peter and Jordan to keep calm and be able to speak in public" (Maxime Aumaitre, Year 3 LLB English Law and French Law)
"The drama company's presentation was a very invigorating interactive session that I enjoyed. The actors provided useful tips on how to present" (Alexa Higgs, Year 1 LLB Law with Business Studies)
Publication date: 20 February 2015