Excitement at launch of Bangor University's degrees in Chinese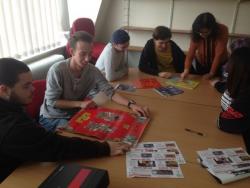 The current academic year has already seen many exciting developments in Bangor University's School of Modern Languages and Cultures. At a time when Chinese language skills are being sought after by many employers, both in the UK and around the world, the school has been particularly excited to welcome its first ever cohort of students studying on our new joint honours degrees involving Chinese.
The new Chinese courses are geared towards helping students to develop a wide range of linguistic, analytical and communication skills. The degrees feature modules about Chinese language and culture and also allow students teh opportunity to spendtime studying in China. Students completing these courses will be well equipped to make use of this knowledge and teh experinecs gained in a wide range of professional contexts.
Having worked closely with Bangor University's highly dynamic Confucius Institute in order to run many exciting events about Chinese language and culture in recent years, staff and students in the School are looking forward to developing these activities further following the launch of these new degrees.
At Bangor, Chinese can now be studied alongside European languages currently taught (French, German, Italian and Spanish) and also in combination with a range of other sujects (Business, Linguistics, Creative Studies, English Language, English Literature, Film Studies and Welsh).
Students enrolled on these courses have already expressed their pleasure at the supportive learning environment here in the School of Modern Languages and Cultures, as well as the enthusiasm provided by the tutors teaching them. Will Hakesley, who is from Evesham and studying Chinese with German, has said that he has found the classes 'very interactive' and that enjoys studying Chinese 'at a university so popular with Chinese students'. Will allso also talked of his pleasure at being able to 'interact with Chinese students on a weekly basis' in order to 'practice and improve' his Chinese language skills.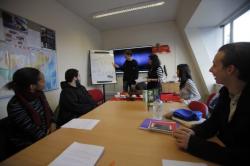 Chinese Tutorial at Bangor


Dr Jonathan Ervine, Head of the School of Modern Languages and Cultures, has expressed his delight at what he describes as 'an extremely exciting range of new degree courses that will immerse students in Chinese language and culture'. He added that 'studying Chinese is highly worthwhile given that Chinese is one of the world's biggest languages and that it's estimated that around a quarter of the world's population speaks Chinese as a native language'.
Click here for more about our Chinese courses.
You can find out more about Bangor University's Confucius Institute here.
Publication date: 6 January 2017