International Law student secures internship at the ICC
An International Law student has secured a prestigious internship at the International Criminal Court in the Hague, the Netherlands.
Wahida Omari, from Afghanistan, will begin a six-month placement with the Office of the Prosecutor's Situation Analysis Section in April.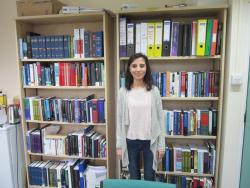 LLM student Wahida Omari has secured a six-month internship with the International Criminal Court
As part of the ICC's Jurisdiction, Complementarity and Cooperation Division, the Situation Analysis Section carries out all preliminary examinations and provides advice on complex matters of fact and law regarding jurisdiction, admissibility, and assessments of interests of justice.
The internship will place Wahida, an LLM International Criminal Law and International Human Rights Law student, in the very epicentre of international law, where she will work alongside leading lawyers and enhance her own knowledge of the subject.
Explaining her passion for international law, Wahida, a Chevening scholar, explains:
"I took the International Criminal Law module through which I came to have a deep understanding of the creation, functioning and decisions of the leading courts and tribunals that deal with International Criminal Law, including the ICC (International Criminal Court).
"The module, taught by Dr Yvonne McDermott Rees, was delivered in a most effective way, and as part of the assessment, I played the prosecutor role in a moot court, gaining experience of arguing both sides of a case."
A guest lecture by Mr Peter Robinson, Defence Counsel to former Bosnian Serb President Radovan Karadzic at the International Criminal Tribunal for the former Yugoslavia (ICTY), led to an exciting opportunity for Wahida to apply what she'd learnt at Bangor to a real-life case.
"During his visit, I discussed with Mr Robinson the possibility of getting engaged in a research project with him, and this lead to me working on the Karadzic Appeal, preparing legal memoranda and analysing evidence", recalls the 26-year-old.
It was a case that was documented worldwide, and saw the former president of Republika Srpska (an autonomous region established in Bosnia and Herzegovina) convicted of genocide and sentenced to 40 years of imprisonment.
Wahida built on this experience during her second semester by working as a contributor for Oxford University Press, preparing headnotes of international criminal law cases for the online publication 'Oxford Reports on International Criminal Law'. Her ambition post-graduation is to became an expert in international law: "my country lacks experts and always relies on lawyers from other countries".
As she looks forward to her internship – as well as graduating in the summer – Wahida is appreciative of the opportunities Bangor has afforded her.
"My time in Bangor has been outstanding and very fruitful. Not only did the different methods of assessment help develop my research, writing and oral advocacy skills, but my studies have played a huge role in securing the internship with the International Criminal Court.
"I cannot fail to thank Dr Rees for providing the recommendation letter which enhanced my chances of success."
Publication date: 15 March 2017