Law students begin 6 month training organised by the Equality & Human Rights Commission
Further to a competition organized by the Bangor Centre for International Law, nine students from Bangor Law School were selected to participate in a six month training on employment tribunal skills, and discrimination law.
For 6 months, Law students Kelly Holding, Adebowala Adekimi Olabisi, Taiwo Lateef, Helen Pitcher, Damian Etone, Saran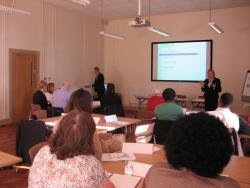 Nine Bangor students join professionals on day one of the employment and discrimination law training programmeJones, Ben Haydock, Laura Moore and Monalisa Ofure Odibo will participate alongside trade union representatives, Citizens Advice Bureau advisors and others, in an introduction to Equality Law, the concepts that underpin it, and how to support clients / members with discrimination claims and prepare them for an employment tribunal if necessary. The course, taught by employment and equality experts from Lancaster Consulting, ACAS, and an employment law judge, will train the participants to identify potential claims of discrimination, and work with the key processes and procedures that relate to legal action in discrimination cases.
The training started on Tuesday, 9th October 2012, and will run for once a month over the next 6 months. Participants can gain credits for ProQual's Level 3 Award in Providing Initial Legal Advice. According to Professor Suzannah Linton, Director of the Bangor Centre for International Law: "We are delighted and very grateful that, thanks to the generosity of the Equality and Human Rights Commission, our students are able to participate in this training. It promises to be an excellent exposure to the issues and reality of employment disputes, and they will surely benefit enormously from the 6 month long training".
Publication date: 11 October 2012