Legal World Series returns with a look at the UK
Bangor Law School's Legal World Series 2015 kicked off with a UK event earlier this month, which focussed on sexual offences, the Scottish referendum and devolution in Wales.
The Legal World Series is a multi-cultural programme of workshops and social events led by students, for students. Each session focuses on a different region, offering students the chance to learn about different cultures and their legal systems. Jessica Isaacs was Student Co-ordinator for the UK event and delivered a well-organised evening of fascinating presentations and delicious food.
Guest speaker Kelly Isaacs, Detective Inspector of the Amethyst Team at North Wales Police, delivered a short lecture on Section 74 of the Sexual Offences Act 2003. Students learned about consent and when someone can be classified as a rape victim under the law, and had the opportunity to ask questions at the end of the talk. Next, first-year student Nigel Hughes gave a very interesting talk on what the outcome would have been had Scotland voted to separate from the UK. He was followed by Year 2 student Leah Jones, who debated whether Wales should have its own jurisdiction or remain with the English legal system.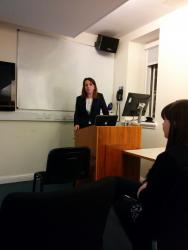 Kelly Isaacs of North Wales Police
Rounding off the evening in traditional British style, students and speakers mingled over a homemade high tea of sandwiches and cakes.
The series continued last week with a South American evening, where the guest speakers included representatives from the Ministry of Women and Children in Peru. Next on the agenda are Africa, Europe, the Middle East, North America and Russia.
Publication date: 16 February 2015