Lord Lieutenant of Gwynedd presents prestigious Award from Queen to local volunteer group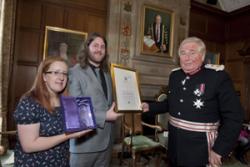 Helen Munro, Student Volunteering Manager, Trefor Alun, Chair SVB Committee & volunteer receive the Queen's Award from His Honour Huw Morgan Daniel KStJ, Lord Lieutenant of Gwynedd.The Lord Lieutenant of Gwynedd today (17 October 2012) hosted a special ceremony to present SVB (Student Volunteering Bangor) at Bangor University, with the Queen's Award for Voluntary Service 2012.
The prestigious national honour is the MBE for groups of volunteers who work in their local community for the benefit of others. It sets the national benchmark for excellence in volunteering, with the work of those awarded judged to be of the highest standard.
The Bangor University Students' Union group was bestowed with an exclusive commemorative crystal alongside a certificate signed by Her Majesty, in recognition of their outstanding contribution.
Professor John G. Hughes, Vice Chancellor, Bangor University said:
"Our students make an active contribution to the community in which they live and study, promoting a close relationship between the University and the local community. The volunteering opportunities provided by SVB enrich the students' experience as well as that of surrounding communities. I know that our volunteering projects respond to local needs as well as reflecting student interests and concerns."
President of Bangor University Students' Union said: ""Over a thousand Bangor University students take part in SVB activities, with 250 volunteering on one or more of 17 community based projects. We are very proud of our volunteers, who currently contribute a total of 450 hours to the local community each week, and also of the organisational support at SVB, which enables the students to volunteer."
Helen M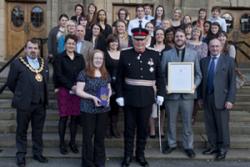 With Helen Munro, Trefor Alun, and the Lord Lieutenant are Mayor of Bangor Cllr Bryn Hughes, Prof Carol Tully PVC (Students) Dr Dewi Roberts of The University Council and some of the 250 SVB volunteers.unro,Student Volunteering Manager at Bangor University's SVB said:
"The volunteers are incredibly proud to have received this accolade which endorses the time they give and the sacrifices they sometime must make in order to enrich the lives of other, more vulnerable, people. Over 40 members of the current volunteering team attended the ceremony and thoroughly enjoyed being part of such a unique occasion"
The SVB group were among 130 across the country and 3 groups in Wales to receive the honour in 2012.
For this year's Award winners and information on how to nominate a group, visit www.direct.gov.uk/qavs, where a nomination form can be downloaded.
Publication date: 17 October 2012