Love of the outdoors inspires career change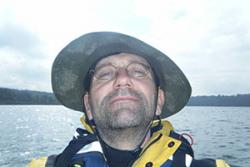 A successful software company director graduates from Bangor University this week after taking the necessary step in a transitioning career.
Graham Monkman, 43, who now lives in Menai Bridge, graduated from the School of Ocean Sciences with an MSc Marine Biology.
Graham graduated in Biotechnology from Leeds University in 1994, however his interests lay elsewhere and he quickly moved into IT, starting as an application developer to eventually become the Quality Director in a software company. The job, though financially rewarding was not fulfilling and having paid his mortgage, Graham was in a position for a change.
During a kayaking trip to Anglesey, Graham and his partner joked about packing it all in and moving from their Cheshire home to north Wales to study Marine Science at Bangor. The couple took the plunge and Graham enrolled for the 2012/13 MSc Marine Biology intake.
Graham said: "I chose to study at Bangor University as I'm very familiar with the area. It has been my playground since childhood, so the opportunity to have easy access to the sea for fishing and kayaking, and the hills for walking was important. In addition, the School of Ocean Sciences has a good reputation for marine sciences and the price point for the MSc course was very competitive.
"During my dissertation I talked to many anglers and charter boat skippers across Wales and helped collect Sea Bass samples with Dr Giulia Cambie, for work on the Sustainable Welsh Fisheries Project, currently underway within the School of Ocean Sciences. This was a great excuse for me to talk fishing with like-minded and highly experienced anglers from around Wales.
"The highlight of my studies was achieving the top MSc mark in the School of Ocean Sciences of the 2012/13 intake and being awarded the Jeremy Jones Memorial Prize for best performing Marine Biology MSc student.
"Professor Michel Kaiser advised that I should apply for a PhD studentship with the Fisheries Society of the British Isles. With support from both Michel and Dr Kieran Hyder of CEFAS I was extremely pleased to win the studentship and am looking forward to commencing my PhD shortly.
"In the future, I hope to successfully complete my PhD, and provide a real contribution to achieving sustainable marine finfish fisheries by improving the assessment of recreational angling in cooperation with the recreational fishing community."
Publication date: 10 July 2014