Marketing degree leads to Manchester United FC for Luke
Bangor University Marketing graduate and football fan, Luke Edwards, is currently working for Manchester United Football Club, and thoroughly enjoying the experience.
Having gained a First Class Honours degree in Marketing, 27-year-old Luke, from Holyhead, went straight into a marketing position. Realising that he wanted to follow his passion and work in a sports-related role, he took the plunge and contacted Manchester United.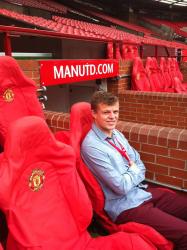 Marketing graduate Luke Edwards is currently working for Manchester United
His initiative led to a month's work experience with the Premier League club back in January.
"What a month!" Luke commented. "I met all my heroes and got to work on some interesting projects."
Luke was invited back to the Club in April. "I'm currently working within the financial services sector of the sponsorship team. This involves working closely with partners from the UK, Europe and Asia to deliver their sponsorship rights – this ranges from player appearances for TV filming and promoting their services, to arranging soccer schools camps and many, many other things," he explains.
Commenting on the value of his degree, Luke says:
"The Marketing course was great. The best part of the course for me was the Professional Sports Management* and Corporate Social Responsibility modules, as these were based at football clubs (Norwich and Burnley). These modules gave me a great insight into the business of football.
"It was in these modules we were introduced to Neil Doncaster, Chief Executive of the Scottish Football Premier League. We have kept in touch on LinkedIn, and it was his personal advice to me which helped me get into a club like Manchester United."
Luke is a huge football and Manchester United fan. He used to play football and cricket regionally, and still plays cricket for his local side.
He would like to continue working for the Club, or in a marketing-related role elsewhere, and hopes that his combination of degree expertise and experience will put him in a good position to continue his career.
"The best thing about being a Bangor student was definitely the opportunities the University gave me – such as visiting China and also taking part in the football modules – and the staff at both the University and Bangor Business School", reflects Luke. "I had some health problems during my time at university and also, sadly, my father passed away during my final year. The support the staff and fellow students gave me was fantastic and helped me towards obtaining my First Class degree."
*This module has since been renamed as 'Management: Planning and Control'
Publication date: 21 September 2015