Miriam scoops Employability Excellence Award
Miriam Mbah, a third year Law with Criminology LLB student, was recently awarded the Bangor University Employability Excellence prize at the annual Employability Celebration evening. The aim of the event is to congratulate and showcase students who have taken part in the Bangor Employability Award.
Miriam, who also made a presentation at the celebration evening detailing what employability meant to her, demonstrated exceptional commitment to developing her employability skills whilst studying for her LLB. She was awarded her prize by Professor Carol Tully, Pro-Vice Chancellor for Students.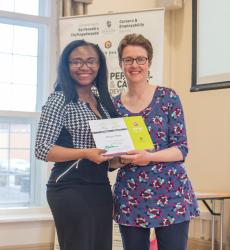 Pro-Vice Chancellor Carol Tully presents Miriam Mbah with the Employability Excellence prize
Commenting on Miriam's success, Stephen Clear, Miriam's Personal Tutor and Law BEA Co-Coordinator for Student Projects and Initiatives, stated: "Miriam has consistently strived for the best grades alongside her extensive engagement in extra- and co-curricular activities. Not only has she held down a part time job while completing her studies, but she has also entered several mooting competitions, including the K.K. Luthra India Moot in New Delhi. Furthermore, she has completed an internship with the Institute for Competition and Procurement Studies' Procurement Week team, has been President of the Afro-Caribbean Society, a Student Coordinator within the School's Legal World Series programme, and had a very active role on the School's Staff-Student Committee. This is in addition to her impressive number of law work experience placements."
Stephen added: "this award is a fantastic and well deserved acknowledgement of all her hard work and determination to be a very employable and commercially aware graduate."
Publication date: 21 May 2015