National Coleg Cymraeg Cenedlaethol Welsh-medium Law Conference
Welsh-medium law students from across Wales attended the Coleg Cymraeg Cenedlaethol's national law conference at the National Assembly for Wales, Cardiff Bay, last month. The conference was arranged by Bangor Law School lecturers Dr Hayley Roberts and Huw Pritchard, with the support of the Coleg Cymraeg Cenedlaethol.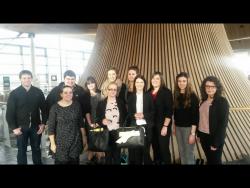 Huw Pritchard (first from left) and Dr Hayley Roberts (first on left, front row) with students at the Senedd, Cardiff Bay
There was a wide variety of sessions, including presentations by professional solicitors and barristers, who shared their experience of working in Wales, and in Welsh, and gave students advice on how to start their legal careers.
Practical sessions were held by Coleg Cymraeg Cenedlaethol lecturers on several aspects of law, including family law (Dr Hayley Roberts), criminal law (Ffion Llewelyn, Aberystwyth University), and public law (Manon George, Cardiff University). There was also an opportunity to visit the Senedd of the National Assembly for Wales and the chance to learn more about the legal work of the Assembly from one of its lawyers.
The keynote speech at the conference was given by Elwen Evans QC of Iscoed Chambers, Swansea, with the support of the Hywel Dda Institute, Swansea. She gave a passionate speech on the importance of Welsh as a language of justice, which will leave a long-lasting impression on the students and all who were present. The Law Commission for England and Wales gave a presentation on their current research into 'The Form and Accessibility of the Law in Wales', which gave the students a glimpse of future legal developments in Wales.
Nicola Roberts, one of the students who attended, said: "I had an amazing two days at the conference and it has strengthened the importance of the Welsh language when I'll be looking for work. I feel a lot more confident in using it – although I don't think my language is good enough at the moment, it is only through using Welsh more that I will be able to improve. I intend to work on extending my Welsh legal vocabulary now".
Dr Hayley Roberts said: "It is both fantastic and encouraging to see so many of our Welsh medium students make the trip down to Cardiff to take part, and to make the conference such a success. Special thanks go to the Coleg Cymraeg for its financial support, all the speakers for generously donating their time, and to Huw Pritchard and Sion Jobbins (Coleg Cymraeg)".
All core modules at Bangor Law School can be taught bilingually and the School offers optional Welsh-medium modules for Law in Welsh, Devolution Law and Law of the Sea. Many of the School's courses are eligible for the Coleg Cymraeg Cenedlaethol main scholarships and all of our courses are eligible for the incentive scholarships. The next deadline for applications for the incentive scholarships is 8 May 2015. Prospective students who want further information are welcome to contact Dr Hayley Roberts or Huw Pritchard.
Publication date: 17 March 2015