PhD awarded to History student
The School of History, Welsh History and Archaeology has a new doctor in the house, after Dr Owain Wyn Jones successfully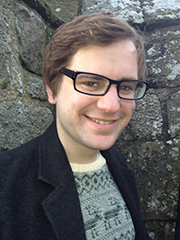 passed his PhD viva examination on the 8th of January.

Owain completed his Coleg Cymraeg Cenedlaethol funded thesis in three years, and was supervised by Professor Huw Pryce. His research explored historical writing in Wales during the Middle Ages, and according to Owain:

'The viva was a very enjoyable experience in the end – it was nice to be able to discuss the topic with examiners who were so familiar with the field of study. I was particularly pleased that David Stephenson and Julia Crick saw strengths in what I worried were weaknesses in the thesis. I received so many useful comments, and I'm very grateful to my examiners and supervisor for all their guidance'.

Owain will be teaching a Welsh medium module in The School of History during Semester 2 called Môr-ladron a Brenhinoedd y Môr (Pirates and Sea-Kings), and will be working on developing his thesis for publication.
Publication date: 14 January 2014