Prizes awarded to the best of the 'Class of 2015'
Congratulations to all our students who graduated from the School of Social Sciences last week.
The graduation ceremony was followed by a reception for graduates and their families at the Management Centre, where prizes were awarded to the best performing undergraduates of the year, including the highest achieving graduating student, all graduating students who achieved First Class Honours and the most outstanding assignment of the year.
The highest achieving students in Year 1 and Year 2 have also been awarded prizes.
The staff at the School of Social Sciences wish the Class of 2015 the very best in their future endeavours.
UNDERGRADUATE PRIZE WINNERS 2015
Highest Achieving Graduating Student: Bryn Moore
Overall Highest Achieving Student in Year 1: Norramon Tengcharoensuk
Overall Highest Achieving Student in Year 2: Julie Jones
Graduating Students Achieving First Class Honours: Nicole Hughes, Rebecca Pierce, Alice Kierle, Hannah S Jones, Daron Owens, Ana Potcoava, Sheree Ellingworth, Anna M V Jones, Joseph Heaford, Sarah Powell, Eilish Wade, Naomi A Parry
Most Outstanding Assignment: Peter Lindop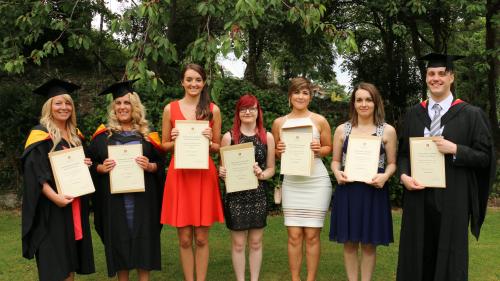 Some of the graduates awarded prizes for achieving First Class Honours

Publication date: 21 July 2015