Prizewinning Vietnamese student graduates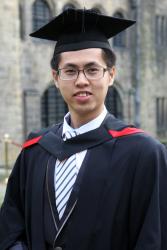 Bao Hoang VoA Bangor University international student graduates with pride following a year of hard work. Bao Hoang Vo, 23, from Danang, Vietnam was awarded an MSc Finance postgraduate degree along with the award for Best Performance in Accounting and Finance at the University's Business School.
Bao studied for his undergraduate degree in Banking and Finance at Danang University of Economics. After extensively researching which university to study his Masters, Bangor University soon became Bao's choice.
Bao said: "I have mixed feelings about graduating. I am excited because I am graduating with a good Masters degree and I am also really honoured to have been chosen to receive the award for Best Performance in Accounting and Finance. I'm also a little bit sad that my amazing time here at Bangor and in the UK will be coming to an end.
"During the time at Bangor I worked with my previous colleagues in Vietnam with Banking and Finance research. One paper was chosen to be presented at a conference.
"I was one of the founders of the Bangor University Vietnamese Society which was established this year. We organised activities throughout the year to enable Vietnamese students to come together to share their student experiences.
"Sometimes, the study became stressful with a lots of assignments to finish and revision during the run up to examinations. Fortunately, the lecturers and professors are really helpful and enthusiastic to support us. Moreover, with the courage from my family back home, I was motivated to overcome those tough times.
"My next goal is to be an academic researcher in Finance and also be able to share my experience, knowledge and enthusiasm to the next generation of students. I am currently looking for an opportunity to study a PhD program.
Publication date: 15 December 2016