Psychology students' marathon achievement!
On Sunday 28th May 2017 Dr Fran Garrad-Cole and Professor John Parkinson from the School of Psychology, and 16 students ran at the Liverpool Rock and Roll marathon! Fran and John have been teaching these year three Psychology students theories of positive and motivational psychology and applying them to a very real goal of running 26.2 miles - after only 18 weeks of training. None of the students enrolled on the 'Born to Run: Achieve your goals' module had ever run a marathon before and in fact many of them had not even run 5 kilometres at the start of January this year.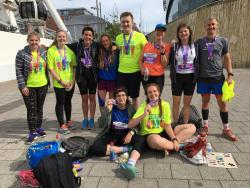 During weekly two-hour lecture slots they have been learning about the theoretical side of goal-setting behaviour and successful achievement as well as strategies for perseverance and self-discipline. Then, the following day, the class arrived kitted out for running and applied those theories on a class run. These runs have covered the pavements and footpaths of Bangor and surrounding area and they even had a class trip out to the Llanberis slate quarries for some 'trail' running experience. The students, and the staff, have engaged in training programmes and have had to fit additional runs and training sessions into their already busy schedules of work and study.
John and Fran have introduced guest lecturers, including experts from Sports Science, and experienced marathon runners Rob Samuel and Russell Bentley (who both came in the top 20 in this year's London Marathon). Their input and experience has added a fresh and relevant dimension to the module. One student said "the guest lecturers were all brilliant, really informative and friendly. It was especially great to see the success of Rob and Russell at the London Marathon."
Fran, who had never run a marathon before, has been undergoing the training for the first time and has shared a few bumps along the road with the students. " I am really keen to empower students and help them realise that they can achieve anything in life so long as they have the right motivation and approach. I was a little nervous about running the marathon, but I was really excited too. I am so amazed by the students and of what they have achieved. Many of them ran the Anglesey half marathon in early March in foul weather, after only 6 weeks of training! They have been absolutely inspiring and I have enjoyed every minute of this module."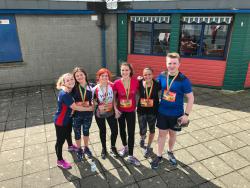 The students have also been overwhelmed by the impact of this module, not just on their health and fitness, but also on their overall confidence well-being:
"The module was absolutely brilliant. I've learnt so much that will be applicable to many aspects of my life, not just running.
"The biggest thing that I'll be taking away from the module is improved self-confidence. When I first started the module I wasn't sure if I'd be able to do it, but with the help and support of everyone on the module I feel like I've really grown as a person and learnt so much about myself that I never would have done if I hadn't done the BTR module."
"I am more confident than I was at the start of the module and I have a more positive outlook on life. I feel like I can do anything that I set my mind to by implementing small achievable goals."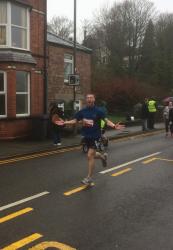 John, who researches motivation psychology added "setting and achieving goals requires practice and structure. In the current module the students have applied their learning to marathon running (a challenging goal!), but now they have those skills and have realised their own successes, they can apply their knowledge in new domains – particularly important to them as they graduate from Bangor and consider their next career and life goals!"
Every one of the students on the module has entered and successfully completed races since January, and 13 students ran the full marathon in Liverpool with a further three completing the half. Those who were unable to run on the 28th have already signed up to other events in order to achieve their goals – we look forward to celebrating their successes!
Publication date: 30 May 2017