RITS-Bangor MBA graduates attend Bangor graduation ceremony
Thirty-four proud MBA students from the Research Institute of Tsinghua University in Shenzhen (RITS), a branch of China's top Tsinghua University, were conferred their MBA degree at Bangor University on 16 July 2015 following two years part time study on the RITS-Bangor validated MBA programme. The 34 attending the ceremony in Bangor were among over 100 students who are the first to graduate following the successful validation of the programme in October 2012 in RITS Shenzhen and Shanghai centres.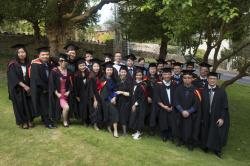 Some of the first RITS MBA cohort to graduate
"We are delighted with and proud of the progress our students have made on the programme over the last two years," said Ms LUO Wei, Deputy Director of RITS, congratulating the graduates, their family and friends. "The students have worked really hard to achieve this remarkable result today. Almost all of our students have a busy job, and some even run very successful businesses. Juggling between study, work and family is never easy, but with the support of RITS and Bangor University staff, they have demonstrated that the set up of the part time validated MBA programme worked."
Professor John Hughes, Vice Chancellor of Bangor University warmly welcomed the graduates, "We value the strategic partnership with RITS, and are committed to the success of the project. Most of the MBA students are young entrepreneurs in the most economically developed cities in China. Having such students among Bangor University's alumni community will not only provide diversity for the institution, but also opportunities for further business links for the University and the North Wales region."
The 34 visiting graduates and their guests enjoyed the traditional graduation ceremony in Bangor University. They will also enjoy a week long programme arranged by the Bangor International Education Centre to visit various local attractions including Bangor's Two Dragons Chinese Garden, a project supported by the Bangor Confucius Institute and the British Council.
Sishan Hu a customer relationship management executive for Dyson China, said;
"It's a great feeling to be graduating today, in what was a fantastic ceremony."
"We had great professors while studying in China over the last two years, and covered advanced activities, projects, presentations and discussions.
"I managed to cover the course while working, and the new qualification is helpful from a business perspective, as well to how to improve my job and career
"It was not too difficult to combine work and study as the study is arranged in week-ends, so I managed to balance study and work life."
"Coming here, I found Bangor University to be beyond my expectation."
Quing Yan Zhou, who is Group Account Director for McCann Advertising Company in Shanghai said:
"Having spent a long time studying it's nice to come here for the graduation. I'm very impressed with this historical University and its surroundings, and even more impressed to discover that Prince Charles was the Chancellor here."
"I came to balance work and study, and what I've learnt will help me a lot in my daily work and in my career," she added.
Publication date: 20 July 2015