Sarah takes 10k Title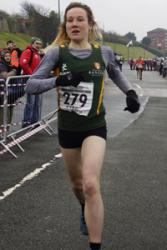 Sarah Caskey: Photo: David ThomasBangor University student, Sarah Caskey, 23, was the first woman to cross the finish line at the Twin Piers 10k race at Llandudno recently.
Sarah, a first year undergraduate student at the School of Sport, Health and Exercise Sciences, emerged victorious, completing the course in 39 minutes and 32 seconds.
Elated after her win, Sarah said "I've been training hard, but wasn't expecting to win, I'm very proud of myself!"
"I chose to study at Bangor University because of the mountains and would like to take up trail and fell running. Wales is also my favourite part of the UK because of its outdoor activity range and stunning scenery."
After graduating Sarah hopes to become either a PE teacher or physiotherapist.
A keen runner, she also came second in the Conwy Half Marathon last year. Back home in Peterborough, Sarah also runs for the Peterborough Athletics Club and Yaxley Road Runners.
Publication date: 29 January 2013