School of Medical Sciences has the best Course Rep of the Year
At this year`s Student-led Teaching Awards, Adam Hawker, the Medical Sciences Senior Course Representative won the Student Choice Course Rep Award.
Dr Thomas Caspari, Deputy Head of School for Teaching and Learning says:`Adam was a brilliant senior course rep who contributed significantly to the development of a strong student voice program in the School. Adam was the co-chair of the Teaching Partnership, an innovative group which brings together academics, students and support staff to discuss all teaching-related matters in the School. Adam fully deserves this wonderful award.`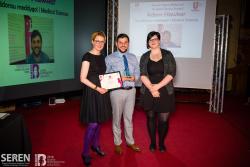 Adam Hawker added: `The past year has been an exciting time for the School of Medical Sciences with the school increasing in both student numbers and courses available and being able to represent the students through these changes has been critical. Being a Course Rep for the past three years has been an important part of my personal development whilst at Bangor University and it is an honour to have been recognised with this award.`
The School of Medical Sciences gives all students ownership of their degree programs and enables them to perform at their highest level. The School offers also a Professional Experience Program PEP, jointly with the Bangor Employability Award and Santander, to allow all students to develop employability skills while they are here at Bangor University.
If you are interested in studying with us, please get in touch with us: medsciences@bangor.ac.uk Tel: +44 (0) 1248 38 3244
Pic Caption: Adam Hawker receives the award from the Pro Vice-Chancellor for Students, Professor Carol Tully (left) and the Student`s Union`s Vice President for Education & Welfare Lydia Richardson (right)."
Publication date: 23 May 2016