School of Welsh students shine at the Urdd Eisteddfod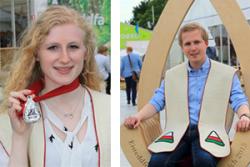 Ffion & ElisSome of the School of Welsh's students had a highly successful week at the Urdd National Eisteddfod 2015 held in Caerphilly last week.
On Wednesday, Ffion Haf Williams won the Drama Medal. Ffion graduated in Welsh last summer and is now studying for a masters degree at Jesus College, Oxford. Current research student at the School, Gareth Evans-Jones, came third in the same competition.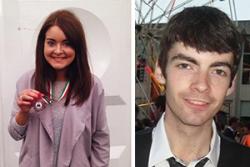 Bethan & GarethThursday saw Elis Llwyd Dafydd win the Chair. Elis also graduated last summer and is currently pursuing an MA at the School.
On Friday, Gareth Evans-Jones came in third again, this time in the competition for the Crown.
Llio Mai Hughes received the Jennie Eirian Davies Memorial Prize for a piece of micro fiction. Llio graduated from the School and completed an MA before embarking on her current PhD project. Earlier in May, Llio won the under-25 Drama Medal and the Tlws yr Ifanc literature medal for young writers at the Anglesey Eisteddfod.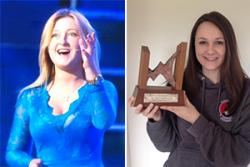 Gwen & LlioOn Saturday two second year students starred on the main stage. Bethan Elin Wyn Owen came third in the Individual Dramatic Presentation competition and Gwen Elin came third in the Musical Theatre competition. Gwen was also selected as one of the six most promising competitors to bid for the Bryn Terfel Scholarship in October - we wish her well with this endeavour.
Congratulations to all these talented students – the School of Welsh is proud of their achievements!
Publication date: 31 May 2015