SENRGy among the prizes at Bangor University Awards Ceremony
It was a fantastic night for SENRGy at Bangor University's Student-led Teaching Awards on Wednesday March 31st. The awards, organized by the Student Union are aimed at recognizing outstanding contributions and excellence in teaching at Bangor. In addition, SENRGy was well-represented in the student Course Rep of the Year Awards, with two nominees; the most of any School in the University.
First for the staff: SENRGy scooped three awards. Firstly for Sian Pierce (SENRGy's Senior Tutor), who's hard work and dedication was rewarded with the award for Outstanding Pastoral Support, and met with arguably the loudest cheer of the night from the assembled masses. Lynda Yorke, resplendent in her highest heels won the award for Innovation, recognizing various activities Lynda has introduced to her classes to great acclaim; including: 'glacial speed-dating', the use of Twitter and running student-led conferences. Lynda was also nominated for the Feedback and Teacher of the Year Awards. Thirdly, in recognition of their tireless efforts to improve SENRGy's (and the University's) green credentials, Heli Gittins, Nicola Owen and James Walmsley were triumphant in the Sustainable Thinking Award. Congratulations to all and also a special mention for Karen Parkill, who joined the School last year, and was nominated in the New Teacher of the Year Award.
And so to the Course Rep of the Year Awards where SENRGy were represented by Rachel Dunbar (Yr 4 Master of Environmental Science) and Tomos Jones (Yr 3 BSc Geography) in the Staff Choice Award. Rachel and Tomos were successful in being short-listed following nomination by SENRGy staff in recognition of their fantastic and sustained efforts representing their peers. Despite both being more than worthy, Rachel and Tomos did not win the top prize, but remain a credit to SENRGy and an example to all.
Here's to similar success next year…..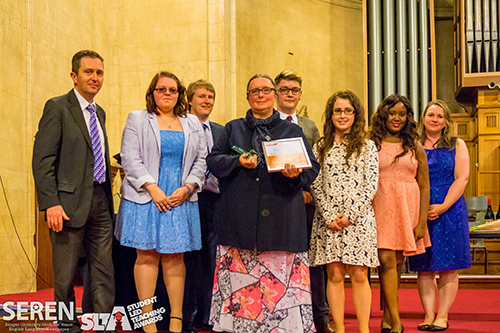 Sian Pierce received the Outstanding Pastoral Support award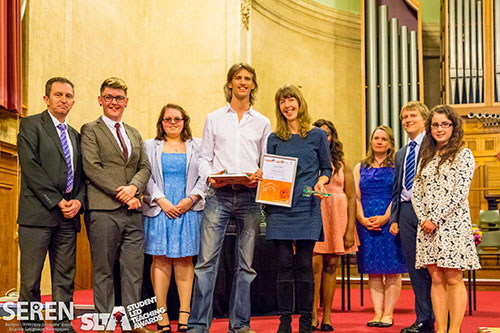 James Walmsley, Heli Gittins and Nicola Owen accept their award for Sustainable Thinking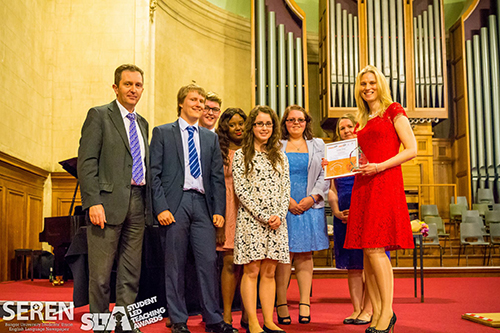 Lynda Yorke was the recipient of the Innovation award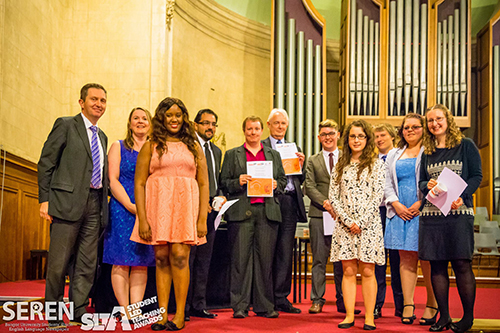 Karen Parkhill was nominated for New Teacher of the Year
Publication date: 6 May 2014