Shadowing Success for Bangor Law Student Cara
Bangor Law student Cara Jones will spend a week next January shadowing Counsel in a leading Criminal Law barristers' chambers in London.
25 Bedford Row, London, is recognised as a leading barristers' chambers, devoted exclusively to defence work.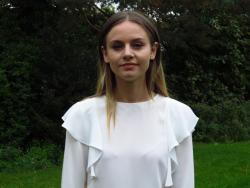 Due to start her Final Year later this this month, Cara is looking forward to the opportunity to gain further experience in the field of Criminal Law, and to learn more about the work of barristers in court, and defence strategy, as well as observe the prosecution in action.
Congratulating Cara, Head of School, Professor Dermot Cahill said: "Bangor Law students now have so many options open to them, it is good to see that students like Cara are making the effort to check out different career avenues, to help prepare themselves for the next stage in their career. Shadowing like this is invaluable, and we are delighted that 25 Bedford Row chambers has selected Cara to shadow leading defence Counsel in the Spring."
Publication date: 26 September 2017