Sports Scientists from Bangor University are making their mark with music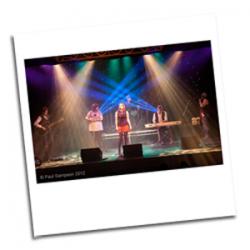 Three academics at Bangor University's School of Sport, Health and Exercise Science have surprising 'alter egos'- while not lecturing students about sports science, they play in a band with local singer songwriter and Bangor graduate, Sarah Louise Owen.
What's more, they recently played during the highly popular and successful Mumford & Sons' visit to Llandudno and supported Olly Murs and Pixie Lott at the recent Access All Eirias gig in Colwyn Bay.
Sports Science lecturers Ross Roberts, Stuart Beattie and Gavin Lawrence have been playing with Sarah Louise Owen for quite a few years and in the build up to the release of her fourth album, Dreamcatcher, which went on sale on November 26th, the gigs have been getting bigger and better.
Ross, who lives in Rachub, near Bethesda, said: "The Access All Eirias gig was great, just being able to play on such a big stage, and we had a great night headlining the Conwy feast recently too - the crowd were brilliant!"
"I would describe Sarah's music as quite folky, quite poppy and quite country all rolled into one. There is a good mix of slower ballads and faster stuff to dance to so all in all is a good night out!"
Guitarist Stuart, from Felinheli, said: "Access All Eirias was without doubt our biggest concert yet. Sarah and I have also recorded an acoustic set for BBC Radio Wales and she was Welsh artist of the week last week! We have also been invited back down to the S4C studios in February for another recording on a new Welsh music show, so it's all going really well."
Drummer Gavin, from Llanberis, added: "It was a great experience. I've been lucky enough to play big venues before in different bands, but this was the first 'big' gig with Sarah so it was refreshing to hear the music in a large venue." Other highlights include staying in a castle and going through the recording process together.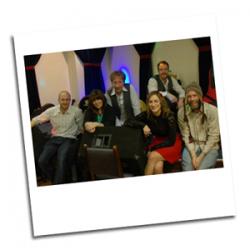 Ross, who plays the piano, added: "Having fun with my mates whilst playing the piano is one of the main highlights of playing for me. We've had some great gigs in various parts of the UK and Europe and being asked to play at a wedding in Tuscany last summer was pretty amazing, especially being put up in a castle for a weekend!"
Stuart added: "Recording on Sarah's recent album and having the chance to have a say in what songs went on the album and fine tuning them has been a highlight. Going through the recording process and hearing the final product has been far the best experience."
Sarah said: "I've been playing acoustic gigs with Stu for around 6 or 7 years, and the others a little less. The last six months have been wicked, playing my album songs live with the guys, and seeing the opportunities and stages getting bigger and better. They are a really good bunch of people and I love having the with me on stage."
For information about the latest gigs and where to buy the album visit www.sarahlouiseowen.net
Publication date: 6 December 2012