Sri-Lanka work experience gives Michael the edge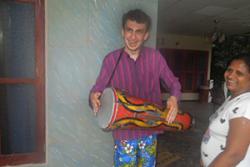 Michael SnaresClinical and Health Psychology graduate, Michael Snares undertook a work placement in Sri Lanka to participate in a Mental Health Placement. For 5 weeks last year Michael shared his skills at psychiatric hospitals and ran therapeutic activity sessions at centres for individuals with various specific needs. This placement was organised by SLV, a volunteer organisation founded in 2010 by psychology graduates in a similar position to Michael.
Michael explained: "I have a cleft lip and palate so as a child I was in hospital for long periods of time and had to have a lot of cosmetic surgery. I also had a lot of speech therapy and had to miss school for appointments. This knocked my self-confidence and led to periods of very low moods. The effects of this sparked my interest in mental health. I then decided to study psychology at A level in an attempt to potentially understand my feelings. It was my favourite subject so I decided to study it at university and I never looked back.
"Being from Essex, I hadn't heard of Bangor until my psychology teacher recommended it. Her friend had been there and she thought that I would really enjoy the atmosphere. I liked that it was quite a small university with a big community feel and both the course and University have a high reputation.
"During my first and second years, I was on the Raising and Giving Committee. As a committee, we worked hard as a team to raise as much money as we could for four different charities. These were voted for by the students every year, and consisted of two local charities and two national charities. One of the most popular events held was the Harry Potter feast. Students paid for a ticket and were provided with a Harry Potter style feast, whilst the English and Dramatics Society performed popular scenes from the Harry Potter movies. Owls were also hired and props were either made or hired to enhance the experience.
"Graduation day was one of my highlights. It represented that all our hard work over the three years had paid off. It was also great to see everyone in their gowns and it showed how far we had all developed in our three years at Bangor.
"I had bouts of very poor mental health growing up, which continued at University, however all the staff and my friends, on and off my course, were very supportive. I now feel I have turned my life around and am ready for the future.
"Since graduating I have been working as a support worker for adults with learning disabilities to gain experience. Once I have completed a year's work, I will be eligible with my experience and degree to study a post graduate qualification in mental health nursing. This course will qualify me as a mental health nurse, and this is the career I hope to pursue in the future.
"I was so nervous before I went out to Sri Lanka, but I never regretted the decision to go there. My best advice would just be to... just do it! The people were some of the most welcoming and friendly I have ever met and would go out of their way to ensure you had a good time out there. The placements are so varied from primary teaching, to youth teaching, working on psychiatric wards or special needs placements. The placements can be challenging yet they are always rewarding, a year on I still miss my time out there, and I am grateful for the experience for being life changing, as well as helping me gain employment post university."
The SLV Mental Health Placement is partnered with the King's College London Resource Centre for Trauma, Displacement and Mental Health. Michael was trained and supported by Sri Lankan Mental Health professionals to help equip him with the skills to work sensitively within the Sri Lankan culture, and in thoroughly under-resourced facilities and challenging environments.
Publication date: 20 November 2015