Street Law directors Scott and Rachel bow out
A successful student-led project bids farewell to its directors this week as they graduate with honours from Bangor University's Law School.
Scott Sharp and Rachel Gill have been co-directors of Street Law, a community-based project which aims to improve the legal understanding of local people, since January 2012. They are only the second ever pair of directors since the initiative's establishment in 2010, having taken over from founders Iwan Emlyn Jones and Joshua Simpson.
Now, the pair are preparing to transfer their Street Law experiences to their fledging legal careers.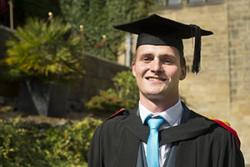 "Street Law has taught me many skills that have aided me in my degree, such as confidence, public speaking, research and presentation skills", says Scott, from Crawley, who became involved with the project during his first semester at Bangor. "It helps students with the academic side of their degrees and gives them the chance to mix with their peers.
"The committee that I have worked very closely with over the past three years have become more like family than friends, and without them, my experience would not have been the same", adds Scott, a former pupil of the College of Richard Collyer in West Sussex.
So rewarding has the experience been for the 21-year-old, who achieved a 2:1 in Law, that he will stay on at Bangor to pursue an LLM in International Law, specialising in International Criminal Law and International Human Rights Law. After this, he hopes to complete the Bar Professional Training Course with a view to practising law, and possibly teaching the subject later in his career.
"My experience at Bangor Law School has been wonderful", reflects Scott, who hopes to become a barrister. "The staff are always willing to help and encourage free thinking and new approaches in a relaxed friendly environment, making it feel less like an institution and more like a small community."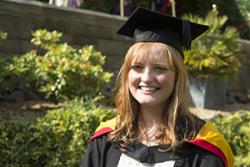 Scott's co-director Rachel, from Maghull in Merseyside, also has ambitions to practise law. The 20-year-old, who hopes to become a solicitor in the commercial and corporate sector, will start the Legal Practice Course at BPP Law School in Manchester this September.
"I can't imagine graduating from anywhere other than Bangor Law School", says Rachel, who graduates with a First Class degree in Law. "Every member of staff has been so helpful, supportive and understanding, and they deliver exciting, innovative and highly interactive lectures. I have to especially thank Mr Gwilym Owen and Dr Pedro Telles for all their help and support throughout the three years."
Like Scott, Rachel too recognises the ways in which participating in a venture like Street Law has benefits not only for the students, but for the community.
"In my opinion, Street Law is worthwhile and so important", says the former Deyes High School pupil. "It provides law students with an opportunity to solidify their legal understanding and also improve their public speaking skills.
"It is also really important that the general public are aware of their rights in the fundamental areas of law that may affect their daily lives. I feel so honoured to have been part of such an amazing project with a great group of people."
Publication date: 10 July 2014