Students and staff take once in a lifetime trip to China
Students and staff from Bangor Business School took a once in a lifetime trip to China in March 2012.
Fourteen students and staff members John Goddard (Deputy Head of School), Sarah Wale (School Manager), Yizheng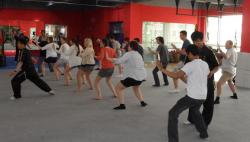 Swapping Management for Martial Arts: a Kung Fu lesson in ShanghaiWang (International Liaison and Support Officer) and Peter Westmoreland (Student Liaison and Research Assistant) set out from Manchester on a cold Monday morning with Shanghai as their first destination. Most of the students were on the first year 'Chinese Language and Business' module, which aims to equip students with an understanding of the language and commercial skills required for dealing with the world's largest nation, and on which students are offered this optional 10-day field trip to some of China's major cities.
The first three days of the trip were spent in Shanghai, where the group visited a Kung Fu school, learnt how to make traditional dumplings, travelled to the top of China's tallest building, took an evening boat tour along the Huangpu River and went for a meal with Alan Anderson, Director of Vehicle Programme Management at SAIC Motor UK.
En route to their next destination, Nanjing, the Bangor University cohort paid a visit to the Humble Administrators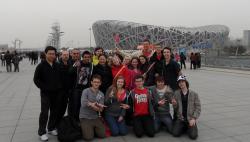 Visiting the Bird's Nest Stadium at the site of the 2008 Beijing OlympicsGarden in Suzhou, a World Heritage site considered to be one of the finest gardens in China.
Upon arriving in Nanjing, the group checked into the International Student Halls of Hohai University for their three-day stay. While there, they took part in some cultural activities – including Tai Chi lessons and traditional Chinese calligraphy and painting – as well as visiting Sun Yat-sen Mausoleum, the Memorial Hall for the Nanjing Massacre, and Xuanwu Lake Park.
This epic trip concluded with a stay in Beijing, China's capital city, which was reached by the famous 300-kph Bullet train. Beijing offered the group the opportunity to visit some of China's most famous sights and landmarks, including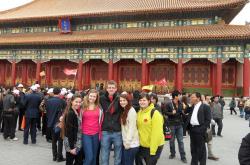 In the Forbidden City, BeijingTian'anmen Square, the Forbidden City, the Summer Palace, the Great Wall of China and the Bird's Nest Olympic Stadium.
"Having the opportunity to visit Shanghai, Suzhou, Nanjing and Beijing was something I never thought I would be able to do as student; however, I was wrong. It's a trip that I will never forget and I'm sure no one else will. Travelling to the other side of the world with eighteen other people, some of whom I knew, some I knew of, and others I had never seen in my life until we arrived at the airport; thrown into conversation and socialising, you soon come to know a lot about most people, a surreal experience to say the least. An experience of a lifetime and a trip that would be recommended without a second thought! Thanks to the staff who made it the trip work so well." – Ross Starkie, Accounting and Finance (Year 1)
"I'm in my final year of University and I wanted to go on the trip last year but couldn't, so when the chance came up this year, I jumped on it. I've always wanted to go to China and it was amazing. I still can't believe I've actually been and seen those famous places and got to experience it all, and I'm so glad I went. I was a little nervous about only knowing one person before we left but I quickly made friends with everyone. The whole group was amazing and after a few days it felt like I'd known them all for a lot longer. We all just mucked in and it made the trip all the more fun because you're in it together. I'm adventurous with my food so I loved trying all the different types of food over there, and we got to try some strange things. It was the trip of a lifetime and I want to say thank you to everyone who made it so special." – Nia Evans, Accounting and Finance (Year 3)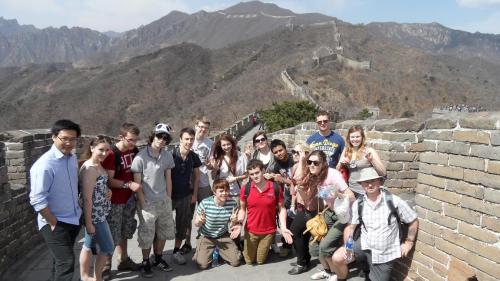 The Great Wall of China
Publication date: 31 July 2012