Success and recognition for Aelwyd JMJ
Aelwyd John Morris-Jones, the University's Welsh students' choral society, has won a national award at the National Societies Awards 2019. The society was awarded the Best Arts Society trophy at a ceremony in Manchester recently.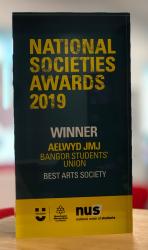 The awards, organised by the National Union of Students (NUS) and held at Manchester Metropolitan University, received over 800 nominations from student societies across the UK. With only twelve awards up for grabs on the night, those organisations that had been successful in getting on the shortlist had already achieved quite a feat - a fact that makes Aelwyd JMJ's success in scooping the award even more commendable.
Aelwyd JMJ is home to several choirs and singing parties - from male voice choirs, female choirs and cerdd dant parties - and has experienced numerous successes at eisteddfod and other national competitions in recent times.
Particularly commended by the competition judges in Manchester was the society's association with the local community. The society organises annual Christmas concerts, ensuring that any proceeds are shared with good causes in the local community. Last year for example, Aelwyd JMJ made a donation of £250 to a mental health charity in the region. They also visit care homes for the elderly in the area, taking an indigenous Welsh singing tradition to residents who often live with conditions that affect memory, such as dementia and Alzheimer's.
Reflecting on this latest success for Aelwyd JMJ, Undeb Myfyrwyr Cymraeg Bangor President, Gethin Morgan, said:
"The successes of Aelwyd JMJ continue and this recent success is testament to the community and charitable aspects conducted by the society. I would like to thank everyone involved with the society for their hard work and I wish the Aelwyd JMJ every success as it continues to develop into a real choral force in Wales."
This was echoed by Professor Jerry Hunter, Pro Vice-Chancellor (Welsh Medium and Civic Engagement), who said:
"Congratulations to Aelwyd JMJ on receiving this award. Neuadd John Morris-Jones and societies such as Aelwyd JMJ contribute significantly to the Welsh culture of Bangor University and play an important role in engaging with the local community. It's good to see this being recognised with national awards such as this latest one."
Publication date: 2 May 2019