Success follows success for SENRGy
It was another great night for SENRGy as the Bangor University Awards Season culminated with the Student Union Societies Awards on Wednesday 8th May. Success for both individual students and student societies capped off a fantastic year for SENRGy and further highlights the efforts made by students and staff.
Four SENRGy students: Will Johnson, Tomos Jones, Ben Griffiths and Chloe Lloyd picked up Gold Awards in recognition of their fantastic efforts this year with GeogSoc (Chloe, Ben and Tomos) and HogSoc (Will). Furthermore, SENRGy's Rachel Dunbar scooped a Silver Award for her work with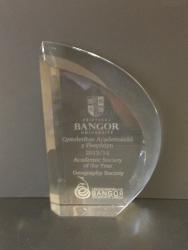 Rostra, Bangor University's Theatrical Society. All five have demonstrated great dedication in balancing their studies with their extra-curricular activities and have helped provide memorable experiences for many SENRGy students through society events.
Happily, the success did not end there. HogSoc (SENRGy's Horticultural and Organic Gardening Society) picked up the Environmental Society of the Year Award. Activities this year included producing a flash garden on Ffriddoedd Site. Lastly it was the turn of GeogSoc, who picked up an award for the second year running, when they were named Academic Society of Year. This award largely reflects GeogSoc's efforts in initiating an academic seminar series this year, which has attracted invited speakers from both Bangor and other Universities.
These successes really underline the great social and academic opportunities that SENRGy students have. A great effort by everyone, many congratulations and here's to more success next year…
Publication date: 12 May 2014