The sun shines on SENRGy graduates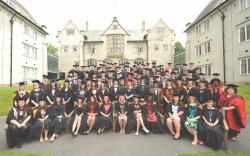 Some sunny skies greeted this year's group of SENRGy graduates on Wednesday 18th July 2012 as they attended their degree ceremony in Pritchard Jones Hall. Students were introduced by Dr Christine Cahalan (SENRGy's Head of School) and had their degrees confirmed by Bangor University Vice Chancellor Prof. John Hughes and the University President the Rt. Hon. Lord Elis-Thomas AM. In total over 100 SENRGy students graduated with both undergraduate and postgraduate degrees this year.
Following the ceremony, and resplendent in gowns, capes and mortar boards, our students posed for a group photo on the lawn in front of the Management Centre. Students and their guests joined SENRGy staff for a reception in John Phillips Hall and were able to take advantage of some well-earned refreshments.
The reception also allowed several prize-winners to be presented with awards achieved during their studies:
William Griffith Prize: Niall Pettitt (BSc Environmental Conservation)
Sustainable Gwynedd Gynaladwy Prize: David Beck (BA Environmental Planning and Management)
SENRGy Prize for Highest Honours Project Mark: Tom Pienkowski (BSc Environmental Conservation)
SENRGy Prize for Academic Achievement (Year 2 to 3): Francesca McGrath (BSc Environmental Conservation)
The Institute of Chartered Foresters Award: Richard Belcher (BSc Forestry)
The Royal Forestry Society Bursary: Amy Lotay (Bsc Forestry)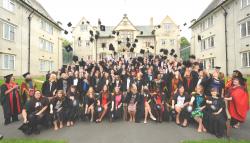 If you would like to receive copies of these photos, please email senrgy@bangor.ac.uk
Publication date: 18 July 2012