Undergraduate students visit London for study trip
Undergraduate students studying various Bangor Business School degrees have visited some of the key institutions of London during a field trip to the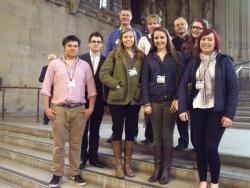 Students in the Houses of Parliament on Budget Day 2013capital.
The purpose of the 'London Field Study' module is to enable students to acquire a better understanding of the role and function of specific organisations, including the Bank of England, the Houses of Parliament, the Competition Commission and the United Nations Association.
This year, the visit was extra memorable as the Bangor students were present for the Chancellor's much-anticipated Budget announcement at the Houses of Parliament on Wednesday, 20th March. From the public galleries, they were able to witness this key event, as well as the Prime Minister's Questions. "This was amazing – I can't believe we were that close to the Prime Minister" said student Laura Butterworth. "If really felt like we were experiencing something special, especially as it was Budget day!".
Some further comments from students…
"A fascinating trip – good value for money and I feel very lucky to have been able to visit both the House of Commons and the House of Lords in action"
Outside the Houses the Parliament, London
"A valuable, unforgettable and remarkable trip"
"The tour of the Houses of Parliament was very good. It was great seeing all the places that you see on TV"
"The talk given to us by a Member of Parliament gave an interesting insight into an MP's life and work"
Publication date: 4 April 2013