Undergraduates head to Nuremberg to attend special Erasmus programme
Six students from Bangor's School of Social Sciences were able to attend a 10 day learning programme in Nuremberg, Germany, thanks to funding by the European Union's Erasmus scheme.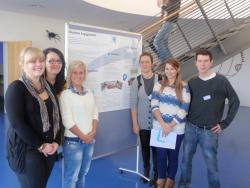 The Bangor crew present their finished poster on Volunteer Engagement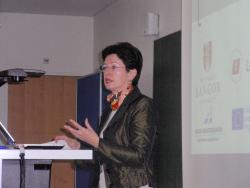 Guest speaker Barbara Lochbihler MEP delivers a fascinating lectureAccompanied by lecturers Hefin Gwilym, Dr Diane Seddon and Professor Catherine Robinson, the Bangor cohort – students on various undergraduate degrees at the School of Social Sciences – joined scholars from Spain, Finland, Germany and Poland for the Erasmus Intensive Programme on volunteer engagement. During the 10 day experience, students examined objectives, methods and results of voluntary action within a comparative European context, with themes including motivations in becoming a volunteer and strategies for recruitment. They were also given a fascinating lecture by Barbara Lochbihler, Member of European Parliament and Chair of the Standing Committee on Human Rights at the European Parliament.
Bangor was one of only five universities throughout Europe to be successful in its application for funding for the programme, which covered 75% of the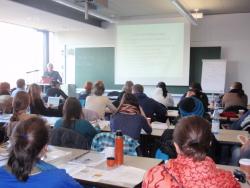 Bangor lecturer Hefin Gwilym delivers a lecture on 'Current Discourses in Volunteer Engagement in Europe'travel costs, all accommodation and an allowance towards food. The other universities selected to participate in the programme were Mikkeli University of Applied Sciences, Finland; Uniwersytet Lodzki, Poland; Universidad de Zaragoza, Spain; and Georg-Simon-Ohm-Fachhochschule Nürnberg, Germany.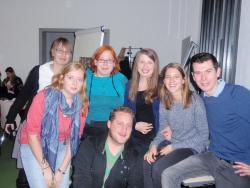 The Bangor group had plenty of opportunity to socialise with students from other European countries"The Erasmus Intensive Programme – 'Volunteer Engagement in Europe' – was an excellent opportunity to study alongside students from other European countries", said Hefin Gwilym, Lecturer in Social Policy and International and Erasmus Coordinator for the School of Social Sciences. "The students worked intensively over a period of 10 days acquiring new skills and knowledge. We hope to be able to repeat the intensive programme in Poland next year".
Participating student Krissie Leyland commented: "The trip was brilliant. I met so many amazing people and learnt a lot about the different countries. The nights out were fantastic and, of course, the lectures. Although it was a lot of work, we also had a chance to sightsee (and shop!). I got a real insight into Germany's way of life and culture – I'd highly recommend the experience".
Publication date: 4 December 2012