Young stroke survivor shares her story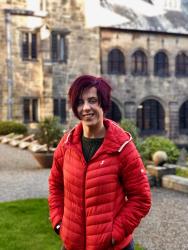 Nicola BrownA Bangor University postgraduate student who has survived a stroke recently shared her story with Different Strokes, a charity run by young stroke survivors to support younger stroke survivors.
Mother of two, Nicola Brown, 35, from Llanberis began having seizures in her sleep when she was 17 and suffered a stroke when she was just 24 years old.
As a result of the stroke, Nicola was left partially sighted and lost the ability to recall information accurately, but was able to overcome this by the use of assistive technology. This meant Nicola was able to attend university and graduated last year from the School of Psychology, with a BSc (Hons) in Neuropsychology.
Nicola became a member of Headway Gwynedd & Môn, a non-profit organisation supporting brain injury survivors and their families/carers, in 2008. During her first year as an undergraduate student, she began volunteering with them, and in July this year, she was elected Chair.
Nicola's volunteering has not gone unnoticed. She has scooped up many accolades, including the Student's Union RAG Student Volunteer of the Year 2017, shortlisted for RAG Volunteer of the Year 2018 and awarded the High Sheriff Award 2018 for demonstrating outstanding commitments to volunteering whilst at university. Last month Nicola was nominated for a Headway UK National Award for Outstanding Achievement for helping others with a brain injury.
Nicola has spoken extensively about living with a brain injury; most recently she has shared her experiences with a number of other young survivors at the Welsh Assembly in Cardiff for Headway UK and presented a patient's perspective to the medical profession at The Royal Society of Medicine in London.
Currently in the middle of an MSc Principles of Clinical Neuropsychology postgraduate degree, Nicola is also involved with innovative projects to help those in a similar situation. Headway Healing Gardens and Headway Friends are new projects to empower members by helping them to re-gain confidence and self-esteem. These volunteering projects are in collaboration with the University's Student's Union, if you would like to volunteer with either project, please visit the Undeb Bangor website.
Read Nicola's story on the Different Strokes website here: https://differentstrokes.co.uk/stories/nicola-brown-stroke-at-24/
Publication date: 12 November 2018