Study Skills Centre: Student referrals
Students can be referred to the Study Skills Centre for confidential writing, study skills, and numeracy/statistics support through the Centre's 1-2-1 programme. To refer a student, please complete our online referral form.
Once a student has been referred, we will contact them to set up an appointment. Appointments are generally made and attended within seven days of referral. If the student attends, we will seek their permission to mail you to confirm their attendance. If you have not heard from us within a few weeks, it would be worthwhile following up with the student.
The Centre runs generic writing and skills workshops throughout the academic year, and students can now book a place on our Semester One programme online. In addition, we have recently developed an interactive resource designed to help students to avoid plagiarising source material, and this and other resources can be accessed from our website. Our maths and stats drop-in and appointments resume full activity from September 23rd.
We work closely with academic staff to embed skills provision within the undergraduate and taught postgraduate curriculum, and have recently completed a pilot study that demonstrates how this work contributes to enhanced attainment. If you would like to explore how the Centre might support your students, please feel free to contact a member of our team.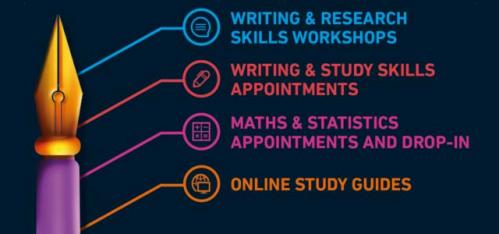 Publication date: 23 September 2019