Marine Ecosystem Conservation and Resource Management Group:

Dr Robert Templeton (1802-1892) and the Soft Coral Xenia desjardiniana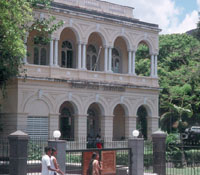 Robert Templeton was a surgeon in the Royal Artillery and was stationed in Mauritius in 1834, prior to moving on to Rio de Janeiro and Colombo, during which time he indulged in his hobby of natural history. He lived in a pavilion at Black River, close to where our research group now stays when working in Mauritius. He published a paper on the fauna of Mauritius (Templeton, R. (1835) Descriptions of a few Invertebrate Animals obtained at the Isle of France. Transactions of the Zoological Society of London 2:25-30) in which he described two new coelenterates and two new polychaete worms, and illustrated them in an attractive colour plate. One of the coelenterates is an intriguing soft coral named Xenia desjardiniana in honour of the then Secretary of the natural History Society of Mauritius, M. Desjardins. Dr Elaine Robson of the University of Reading has been revisiting Templeton's collections, and having consulted with Dr Phil Alderslade, Curator of Coelenterates at the Museum and Art Gallery of the Northern Territory, in Darwin Australia, has uncovered no further descriptions of the soft coral. Searches in museum collections in London, Paris, and Rio de Janeiro and Colombo have proved fruitless. We spent an interesting time investigating the accessions register in the Natural History Museum in Port Louis in Mauritius, examining much stored and unclassified material to no avail. Templeton collected the soft coral in shallow water close to his house - an area that is now a small marina! However, by swimming further out into the lagoon at Black River, we were able to collect a soft coral which looks remarkably like the drawings and descriptions of Templeton, although some features, such as number of polyps are perhaps questionable. Initial examination of the samples by Phil Alderslade suggest that the soft coral belongs to the genus Efflatournia. We are currently collecting new specimens for confirmation by spicule characters and for DNA analysis, but it looks likely that we have Templeton's soft coral.