Student Profiles - Undergraduates
Siôn Wyn Fôn – LLB Law (2 year degree scheme)
Siôn, from Dyffryn Nantlle, graduated with a first class degree in 2013. He studied the 2-year LLB having previously completed a BA in Drama, Film Studies, Television and Theatre at Aberystwyth University. From September, he will study the Legal Practice Course (LPC) in order to train to become a solicitor.
Why choose Bangor?
As I come from Gwynedd I was already aware of Bangor University's brilliant tradition and reputation, and the excellent facilities and pleasant location made it an easy choice.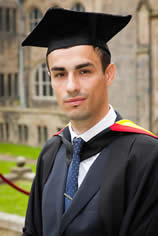 What was the best thing about the course?
Studying law is a great opportunity to learn about different aspects of day-to-day life, from the Welsh Assembly and international law to murder and libel. The course allows one to look at the world with a completely different theoretical perspective, as the core question is 'what is the Law?'.
The staff were totally supportive, devoted and very friendly. The lecturers and tutors were easy to approach and went out of their way to answer a question or provide support. The law library and the online resources were excellent.
What was the highlight of your time in Bangor?
Mooting was a worthwhile experience. I had success in the School's Welsh-medium mooting contest and I also represented Bangor University in a national mooting competition for Welsh universities in 2012.
What are your hopes for the future?
I have accepted a place to study the Legal Practice Course (LPC) in Chester in order to train as a solicitor. After completing the course I hope to find work as a family and medical negligence lawyer.
I feel that my experience at Bangor has thoroughly prepared me for studying the LPC – the ability to research and understand the law is essential and has taught me core skills on which I can build.
Laura Moore – LLB Law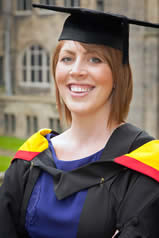 Laura, from Shropshire, graduated from Bangor with a First Class degree in Law in July 2013. She intends to pursue a research degree and hopes to progress to a career in legal research.
Why choose Bangor?
Location – I was looking for a university location that would be suitable for relocating with my two children. North Wales is very beautiful and the perfect place to raise children. Having amazing places such as Aberffraw and Newborough on our doorstep was just wonderful. The fact that the staff were so approachable and encouraging from the outset reinforced my decision.
Tell us about the course…
The course covered many areas of law and each required different skills and methods of thinking. The best aspect was the vast number of skills that one acquires through studying Law – not just academic skills, but practical skills such as debating, too. I took on a lead role in the School's Innocence Project, which was very interesting and taught me a lot.
Getting my first year results was a high point. It was then that I realised that I could do well, despite the fact that I had been out of education so long.
Did you feel ably supported in your studies?
The academic school has been extremely supportive of me during my studies. The fact that the School is relatively small has many advantages – this is especially true in respect of staff-student relationships and communication. It is brilliant support and assistance is so readily available to students.
Benjamin Pritchard - LLB Law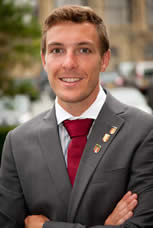 Benjamin, from Swansea, graduated with a 2:1 in Law in July 2013. A passionate sportsman, he juggled his third year studies with training for and competing in the ETU Triathlon European Championships in Turkey, where he came 12th in his category. At the end of his final year he was awarded the Llew Rees Memorial Prize by the university, an honour which is given to those who make a significant contribution to sport at both a university and national level.
Why did you choose Bangor?
I wanted to stay in Wales and study at a Welsh university. Initially, Aberystwyth was my primary choice over Bangor. However, after visiting Bangor on an Open Day, I decided it was the place for me. On the journey home the same day, I phoned UCAS to make Bangor my first choice. Three years on, I'm glad I did so.
What did you like about the School?
Being able to choose from such a wide scope of modules, and the knowledge base of the staff.
What was the best thing about living in Bangor?
The ability to train – Snowdonia is right on the doorstep and is perfect for triathlon training. There were also many opportunities available to try out new sports.
What are your plans for the future?
To expand my knowledge base. I have been accepted to Southampton University to study for a Masters in Maritime Bar. After that, I hope to attend the Bar.
Batool Al Mohsin – LLB Law with Business Studies

Batool, from Bahrain, graduated with a First Class degree in Law with Business Studies in July 2012. From over 2,000 graduates, she was one of only four people throughout the University to scoop the Dr John Robert Jones prize, which is awarded annually to the best students across all disciplines.
Batool is now studying for a Masters in International Business Law at York University in Toronto and hopes to become a corporate lawyer.
What made you choose Bangor?
The availability of the Law with Business Studies option is what ultimately made me choose Bangor over any other university. It gave me the opportunity to explore the world of business alongside law, thereby preparing me for my career ambitions. A friend had recommended the University to me and after researching the course and the location, I decided that it was the right place for me.
Tell us about your experience on the course…
I truly enjoyed the course in every respect. The modules were taught in a very effective manner allowing for a thorough understanding of the subject matter. The School's annual McLaren Moot Court competition is a great experience which gives students a taste of working in the courtroom. There are also many other highlights including an optional field trip to European Union institutions and other trips organised by the Student Law Society.
But without a doubt, the best thing about the School is its lecturers. Despite their busy schedules, they always made themselves available to help each and every student. I would not have been able to attain my result without their help and support and I will always be grateful for this.
Did you undertake any placements?
I completed a two month internship in the corporate legal department of Bahrain Telecommunications Company. It was a great experience, and offered me an insight into the world of corporate and commercial law.
What will you miss most about Bangor?
It's a place where you can walk down the street and everyone has a smile on their faces. People are always polite, friendly and helpful. It's surrounded by so many beautiful places which can be easily visited by car or train in about 15 minutes.
Bangor really is a great place to live. It is a relatively small city, making it a very convenient place for the busy life that comes with university education.
Kate Longson – LLB Law

Kate, from Staffordshire, graduated with a First Class degree in Law in July 2012. In September 2012 she will commence the Bar Professional Training Course (BPTC) in Manchester having won the Lincoln's Inn Lord Denning scholarship, worth £15,000.
Why did you choose Bangor?
I really liked the rural nature of North Wales and Bangor was an ideal distance from home. The Law School is small and personal and places great emphasis on pastoral care and student satisfaction – on top of this, the University in general has a very good reputation. I also liked the fact that first year students are guaranteed a place in halls of residence and that the School offered a good choice of 'Law with' degrees. I originally thought that I might want to switch to Law with Business and, although I decided against it in the end, it was nice to have the option.
How would you recommend Bangor to potential students?
The combination of the friendliness and helpfulness of the staff, the closeness of the student community, the location of the university and halls of residence, and the beauty of surrounding North Wales makes Bangor the perfect choice for a young person moving away from home for the first time. The law course is well structured and there are lots of extra activities organised by the Bangor Students' Law Society to fill your spare time.
Tell us about your study experience…
The year groups are small so it is easy to get to know everyone and you settle in very quickly. Also there is a good range of optional modules for those with interests in specific areas. For those who wish to go in to practice, many of the lecturers are, or were, practitioners and are able to offer valuable advice about achieving a career as a solicitor or barrister.
There have been so many highlights of studying here. I was lucky enough to act as lead counsel on the winning team of the School's annual mooting competition. I was also awarded a Lord Denning scholarship by Lincoln's Inn to cover the cost of the BPTC and received the Eric Kemp Prize from the Ecclesiastical Law Society for achieving the highest grade in the Law and Religion module.
The help and support that I received from the lecturers throughout my time in Bangor was second to none. When it came time to apply for BPTC scholarships the Head and Deputy Head of School organised some mock interviews for me and gave me some great feedback. Every member of staff, from the law librarian and administrative staff right through to the most senior lecturers, will go out of their way to help you and genuinely care about your success.
Have you been on any placements?
I have spent several weeks in solicitors firms and barristers chambers, a must if you are considering a career in law. This has given me a valuable insight into life as a practitioner, and the workings of the court system, and confirmed that I wish to pursue a career at the Bar. I was also lucky enough to secure a month long 'Law with Human Rights' internship in Ghana for summer 2012 which I hope will prove to be a very educational and rewarding experience. 
What will you miss most about Bangor?
I will definitely miss the closeness of the student community. Bangor is a very small town and it doesn't take long before you can't even walk down the road without bumping in to at least one person that you know. And of course, being so close to Snowdonia and some beautiful beaches is great.
Iwan Emlyn Jones – LLB Law

Iwan, from Caernarfon, graduated with a 2:1 in Law in July 2012. In 2010, he and fellow student Joshua Simpson founded Street Law, a community-based, student-run project that aims to improve legal understanding amongst local people. After graduating, he will join Gwynedd County Council as a Professional Trainee in General Management and study for a postgraduate qualification.
Why choose Bangor?
I chose Bangor because being from the local area, I wanted to study close to home. I was also drawn to the small size of the School as I knew that here, I would be treated as an individual and not just one of hundreds of students sitting in a lecture theatre. This means that the service provided is more personal and enables you to reach your highest potential.
Tell us about the course and the School…
The course was brilliant from start to finish. Even though the workload could be heavy at times, the lecturers made the burden easier by making lectures lively and not too long. It was also great to have such a wide variety of modules to choose from, despite the small size of the School.
The best thing about the School has to be the lecturers. They know students on a first-name basis and will even stop for a chat in the street, which demonstrates the close-knit community offered by the School. There is also a dedicated Law Librarian who is excellent at finding any document or text that you may need.
Did you complete any work placements?
Although I didn't go on any specific work placements, I was successful during my first year in gaining a place on the week-long CSET (City Solicitors Education Trust) Summer School. This gave me the opportunity to go to London (with all expenses paid) and to network with representatives from some big London legal firms, such as Allen & Overy and Slaughter & May. It was a great opportunity to learn more about Law and to work out whether there was a career for me in the industry. I would recommend any Law student to try for this exceptional opportunity.
What's next for you, and how do you feel that Bangor Law School has helped you prepare for that step?
The wide range of extracurricular activities offered by the University has been hugely beneficial in terms of taking the next step into full-time employment. Not only do the provisions offered by the Students' Union help you improve your skills, but activities within the School itself have helped me gain new skills and experiences that proved advantageous when being assessed for my new role at Gwynedd Council.
Joshua Simpson, from Anglesey – LLB Law with Business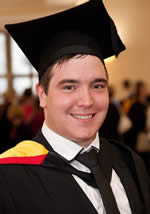 Joshua, from Anglesey, graduated with a 2:1 in Law with Business in July 2012. Along with fellow Law student Iwan Emlyn Jones, he established the student-run, pro-bono Street Law project in 2010. In September 2012 he will enrol on the Legal Practice Course (LPC) at the College of Law, Chester, with the ambition of eventually qualifying as a solicitor.
Why choose Bangor?
An open day convinced me that Bangor was the best place for me to study. The staff were very warm and welcoming and made it clear that at Bangor, I would be treated as an individual rather than a 'number'.
I was also lucky enough to obtain the Law Drapers Scholarship, which has helped fund my studies.
Tell us about your course…
My course was quite different to students who studied on the straight Law LLB course, as I studied a number of business modules alongside all the core law subjects. Whilst my aim is to go into the legal profession and to become a solicitor, I believe that combining my legal studies with business modules has helped me to understand the commercial aspect of solicitor firms and the issues they face, such as attracting new clients. For me, a crucial factor about Bangor was that the course was a qualifying law degree course, meaning I will be able to go on and qualify as a solicitor after graduating. Whilst a number of universities offer law degrees, not all of them are qualifying law degrees.
I would have to recommend Bangor to anyone thinking of studying Law. Not only does the School offer a huge diversity of modules and programmes, but staff will go out of their way to help you. Whenever I needed help with anything – academic matters or advice on my future legal career – I could always depend on staff to help me. The learning facilities are great too – the School has its own law library and law librarian, as well as computers reserved exclusively for the use of law students.
Have you been on any placements?
If you really wish to succeed within the legal profession, then it is essential to get work experience. I have been lucky enough to complete a number of placements with a law firm in Chester and being given more and more responsibility each time. I was given a number of tasks to complete (such as drafting letters to clients), and I was even allowed to attend meetings between the clients and the solicitors. On top this, I have attended free legal advice clinics with solicitor firms, as arranged by the School. I am glad to have taken advantage of this, as it is great to see what you have learnt in the lectures being discussed in reality.
How has studying at Bangor helped prepare you for your future career?
I believe studying at Bangor and participating in the extracurricular activities has given me the confidence to pursue my chosen career path. These activities include Mooting, which was extremely fun (and nerve-wracking at the same time!), and pro-bono work through the Street Law project. A number of the Legal Practice Course (LPC) providers like their students to take part in pro-bono work at some stage before they qualify as a solicitor so it is great to have this on my CV before starting the LPC. All these experiences have helped me to develop various skills which I will take with me on the LPC.
What has been the best thing about living in Bangor?
Bangor is that it is such a student-orientated city – everything is within a close proximity. But the highlight has probably been the different people I have met here. I have met many people with whom I know I will be friends for years to come. This includes the staff – I know that I can always turn to them if I ever have problems after leaving University, which is extremely reassuring.
Eleanor Graham, from Halifax – LLB Law with Business Studies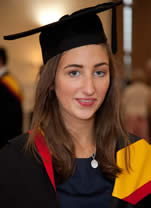 Why Bangor?
I chose Bangor over any of the other universities I visited because at the open day, the lecturers took the time to speak to me individually and to make me feel welcome. The overall impression that I got from the University and the Law School itself was that they care what you think and would take the time to answer your questions – something that I did not get from other universities that I visited.
Bangor Law School may be quite small in comparison to some universities, but this is a huge benefit. The staff know you personally and have more time for their students. It's not difficult getting hold of whichever resources you need, and lectures, tutorials and seminars feel much more personal.
What did you enjoy about your course?
I liked the way that the course was structured and the module options available to me. Lectures were well-taught and the modules well-structured. The experience has set me up for my future career and taught me a variety of skills. It may have been hard work, but when I discovered that I'd achieved a First, it all felt worth it!
What about Bangor itself?
It's a very picturesque place. It's also compact for a city, which means that all your friends are close by, the shops aren't too far away and it's quick and easy to get to lectures. Making friends is easy – some of the strangers you meet on your first night quickly become some of your best friends!
Hanna Daly - LLB in Law with Accounting & Finance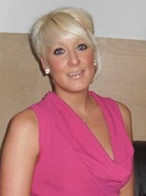 Why Bangor?
I heard about Bangor when I was doing my A-Levels in school. I chose to study here because the University has a good reputation. The Law School itself is a fairly new faculty and therefore has great facilities. It is also a nice distance from home as I am far enough to be independent but close enough to get home in a reasonable time.
Bangor also happened to offer the unusual subject combination of law with accounting and finance – an option that is not widely available. This allowed me to combine my interests in both law and accounting.
Tell us about the School…
Students are very fortunate to have lecturers from many reputable universities from both the UK and abroad including Cambridge, UCL, Nottingham, and Cardiff etc. We are also fortunate to have lecturers that practice as solicitors and therefore have a practical knowledge of their subject. Additionally, students have access to a well stocked law library and other facilities which aid our studies.
There are multiple opportunities for students outside the lecture theatre, such as Mooting. During my final year I was a member of the winning team of the McLaren Moot Court Competition – after several weeks of hard work and preparation, this was a huge sense of achievement.
What's next for you?
I have been offered a training contract in an accountants firm in Chester with whom I previously did a work placement. I will be training to become a Chartered Accountant and then hope to go on and study for the Chartered Tax Adviser (CTA) qualification.
Chaynee Hodgetts - LLB in Law

Tell us about your undergraduate experience…
My time at Bangor began with an unusual start into Law, as my first year of undergraduate study was done with the School of Ocean Sciences, in BSc (Hons) Marine Vertebrate Zoology. I accompanied a friend to Law lectures, and quickly found a calling towards the challenges of the subject. I found Bangor Law School a warm and welcoming academic institution, with both students and staff from diverse and different backgrounds. I enrolled in the LLB Law degree, and graduated with a 2.1 (Hons).

Tell us about the progression to postgraduate study…
The dissertation option on the LLB provided invaluable insight into the research world, assisting my progress into the specialist subject of Marine Criminal Law. After this, I undertook the LLM Research Masters, further continuing the theme of my undergraduate research, achieving a Distinction.

What are you doing now?
Currently, I am working towards a PhD at the University of Portsmouth, again in Marine Criminal Law, while also working as a part-time Law Lecturer there, preparing various papers for submission, and recently joined Middle Temple Inns of Court. I hope to develop my research specialism in the years to come, in order to enhance maritime safety and law, and to clarify the application of criminal law to maritime cases. Had it not been for the support and initial inspiration provided at Bangor, this would never have been possible, and I would recommend any law student considering a future career in research to consider the expertise and academic support at Bangor Law School. It gave me a great start.
Carys Aaron, from Llandwrog – LLB in Law (2 year Degree Scheme)

Why Bangor?
Being from Llandwrog, the University is right on my doorstep. I previously studied English Literature here and my parents, sister and daughter have all attended Bangor.
Tell us about your experience on the 2 year LLB programme....
The 2 year LLB can be quite intense, but it's a challenge that brings a lot of pleasure. It helps that the staff are so supportive and accessible, with a huge range of specialisms between them – in fact, the whole School offers a welcoming and encouraging enviornment in which to study. As a Welsh speaker, I would also have to commend the very real provision of Welsh-language tuition in the core modules.
A personal highlight for me was being awarded the Sir Samuel Evans Prize for attaining the highest mark in Law throughout Univeristies in Wales.
What are your plans for the future?
I am now back at Bangor, undertaking a research degree. Through this I have had the opportunity to teach undergraduates – an experience that I have enjoyed immensely!
Dan Seward, from Canada – LLB in Law (2 year Degree Scheme)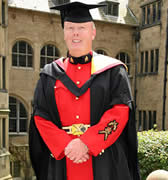 Why choose Bangor?
I had first found out about the availability of a 2 year LLB in the UK from other Canadians. I used the internet and made inquiries with friends in the UK to find that Bangor was best suited for me. Without a doubt, Bangor has made a dream become reality by enabling me to obtain my law degree. While this process is a long and complicated one in Canada, with no guarantees of getting on to a course, the 2 year LLB at Bangor seems to have gone by so quickly. There is also the added bonus of not having to sit the costly LSAT exams.
What have been the best aspects of studying at Bangor?
The School's professional approach and the friendly, welcoming attitude of all the lecturers and staff. From the start, lecturers were keen to ensure all the students were getting the concepts. They offered after-lecture Q&A sessions and welcomed emails from those who preferred to use that method. This rang true with guidance in essay preparation, too. Truly, the lectures were a cut above. 
Location-wise, living in Bangor has been an amazing adventure. The exceptional welcome by the people of Wales was a definite highlight and I feel I've made lifelong friends with people from all over the world.
What are your plans for the future?
I have gone on to do an LLM Research in Personal Injury in Employment Law and I am preparing for conversion exams to satisfy the bar exam in Canada. With the law degree, a whole new world opened up that I never knew existed.
Deborah Railton, from Manchester - LLB in Law (2 year Degree Scheme)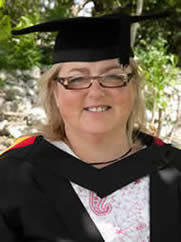 Why Bangor?
I remember coming to Bangor to stay with family when I was a little girl, and we would always drive past the University buildings. The buildings always fascinated me and it was my ambition to attend Bangor 'when I grew up'. I may have left it a little longer than originally intended, but it was delightful to eventually achieve such a long held ambition!
Tell us about your course...
I studied the two-year LLB, which was delivered in a straightforward and comprehensible way. Bangor Law School offers a very supportive and close-knit community. I was surprised by how quickly I felt at home – everyone was helpful, approachable and kind. The lecturers are really keen to help you make sure you know where you're going with the subject, which really instils in you the belief that you can achieve.
Tell us about your experience on the course...
Despite being a mature student, I didn't once feel out of place. In fact, it was great to study amongst a mix of ages and backgrounds. There is plenty of social life and School activities to join in. A particular highlight of my course was being able to attend the Legal Wales Conference and having the chance to meet the Lord Chief Justice – not something I expected when I embarked on the course!
What are your plans for the future?
In order to make an informed decision about my future I undertook mini-pupillages in Liverpool, Chester and Caernarfon Crown Courts. These have been enlightening and useful, with staff being really keen to assist in pointing out the highs and lows of legal careers.  I now have a place on the Bar Professional Training Course (BPTC) at the University of the West of England, Bristol.
Katie John, from the UK - LLB in Law with Criminology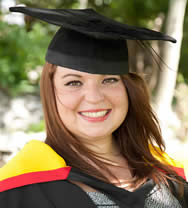 Why did you choose Bangor?
Bangor wasn't where I had originally envisaged myself going, but after attending an open day I quickly changed my mind. The staff were friendly and seemed genuinely happy to take the time to thoroughly explain any questions I had, and I decided there and then that Bangor was the University for me!
Tell us about your course...
There is no denying that Law is a challenging degree, but the feeling you get when your work pays off is well worth it. I really liked the sense of variety that came with the course as there were a broad range of both compulsory and optional modules over the three years, my favourite being Criminal Law.
What was the highlight for you?
A real highlight of my degree was the European Union trip in my second year. The trip enabled us to visit and to hear talks at many of the major EU institutions (such as the European Commission), as well as being able to visit Brussels, Luxembourg and Strasbourg. The trip proved to be an insightful one and meant I had a greater understanding of European Union Law whilst having a lot of fun along the way.
What are your plans for the future?
Now that I have graduated, I am dedicating the next year to gaining invaluable legal work experience, starting with an internship at a solicitors' firm in Perth, Australia. Following this, I intend to complete my Legal Practitioners Course, with the possibility of returning to Bangor to complete a Masters degree in between. My ultimate ambition is to work for the Crown Prosecution Service.
Elizabeth Cooke, from Anglesey - LLB in Law (2 year Degree Scheme)
Why choose Bangor?
I chose Bangor for my LLB because I love the area. There are great places (like Newborough beach) to walk my dog and everyone is friendly. The area presents an admirably close knit community inside and outside the University.
Tell us about your work placements…
In January 2009 I had a week's work experience in a corporate law firm. Last summer, I did a week intensive paralegal course run by the National Association of Licensed Paralegals (NALP) in south London and I qualified as a freelance paralegal. I proceeded to spend four weeks at a Chambers in London during which I sat in on a Criminal Law trial (a historic rape case), took notes for the defence barrister, helped compile the closing argument and contributed to the questions that were posed to the witnesses. I also sat in on several legal arguments and bail hearings as well as some other Family and Criminal Law cases. I then obtained paid work in a personal injury law firm as a paralegal, and I have been offered a permanent position when I graduate.
What are your plans for the future?
I have had an amazing experience at Bangor Law School. The lecturers are friendly, helpful and approachable and the course is very well-delivered. I have thoroughly enjoyed each module. After I graduate, I will commence the Legal Practitioners Course (LPC) at the College of Law in Chester.